Halloween Craft Ideas for the Whole Family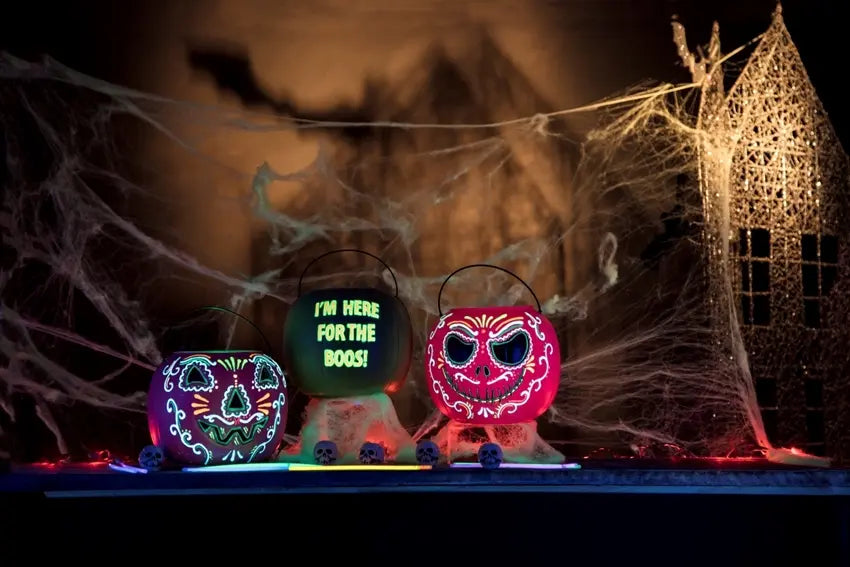 Staying home for Halloween? Stay crafty with these wickedly fun Halloween craft ideas for everyone in the fam! From ghoulish glow pumpkins to tricked out tie dye and treat pails with personality, Tulip has you covered for easy Halloween crafts. Read on to see how you can make your family's Fright Night a total scream this year!
Of all things creepy & crawly that lurk in the night, spiders just might be the scariest! Made with Tulip Dimensional Glow Paints and tulle fabric, this spiderweb necklace is a perfect Halloween craft idea for anyone in the fam who likes to up their fear factor. You can even make scream-worthy settings for your table using this same technique!
Decorating pumpkins for Halloween is a traditional MUST, but how you decorate them is totally up to you! Skip the mess of carving and get right to the fun part with this Halloween craft idea using Glow-in-the-Dark Dimensional Paints. The best part about working with paints is you can easily wipe them away and start over if you mess up while painting your pumpkins. Get ready to light up Halloween night with boo-tiful pumpkin creativity that glows!
Tie dye is totally on trend this year, and if you're looking to take your tie-dye experience to a frighteningly fun new level, Halloween is the perfect time to do it! These Halloween tie-dye shirts are an easy way to get tricked out in tie dye that's a total treat to wear this time of year.
Even if your kiddos won't be trick-or-treating, you can still sweeten their experience! This Halloween craft idea features trick-or-treat pails that glow with personality. Use Tulip Dimensional Paints to decorate them with funny quotes, spooky smiles and more, then fill with candies and keep them around the house for a cool new way to collect treats this year.
How about some arm candy, now that we have the sweets covered?! These Dimensional Paint Glow Bracelets are a fun Halloween craft idea that you can literally make with just some string and your favorite Glow Dimensional Paint colors. This is an easy idea for younger kids or those who aren't fans of seriously spooky crafts, but still want to get creative.
Because you can never have enough glow on Halloween of all nights of the year, here's one more glowing Halloween craft idea! Create themed dimensional clings that are great for decorating windows, cell phones, drinking glasses and more. They easily peel and stick to slick surfaces so you can switch them out, or move to different places around the house to spook out your family!
Not everything about Halloween has to be frightening; some Halloween craft ideas can be "frighteningly fabulous" too! These cute Halloween wreaths will still get you into the Halloween spirit, but you know, without the scary spirits and other things that go bump in the night. Pair colorful fabrics with Dimensional Paints for easy embroidery hoop wreaths that you can use to decorate your door, mantle or wall this Halloween.