Halloween Necklace DIY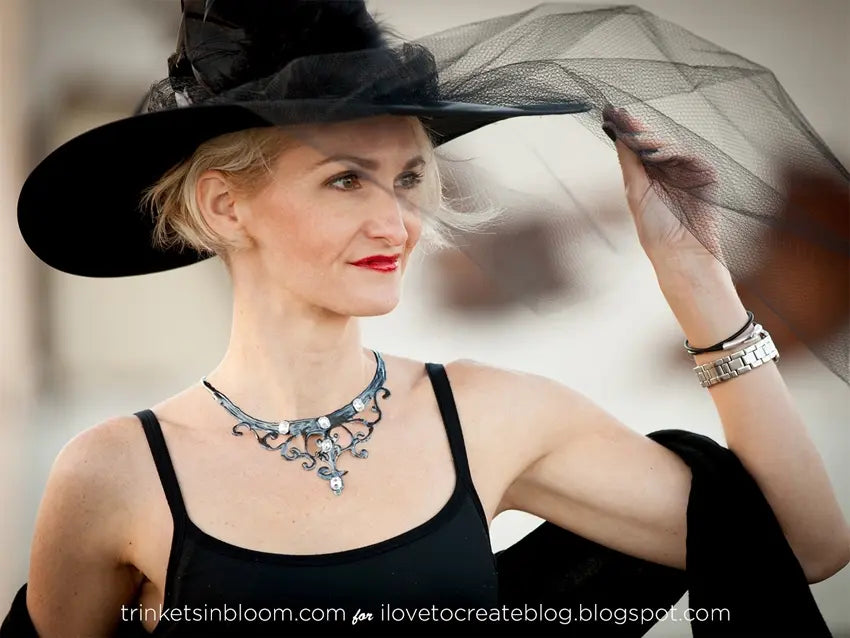 Looking for a quick and awesome solution for your Halloween costume? This sparkly Halloween Necklace DIY was made with Tulip Dimensional Paint and it's super easy to make with major results! Let's get started!
What you need:
Rhinestones
Freezer paper
Use a necklace you already have or measure your neck to get the correct measurement.
Draw a circle on your freezer paper the size of your neck measurement.
Using your dimensional paint draw a line around your circle leaving an opening in the back. You should also add a little extra length so you can overlap it in the back when you're wearing it.
Fill in your necklace with extra paint. 
You don't want to make it too thick or it will take forever to dry, but don't make it too thin either or you'll have a problem peeling it off your freezer paper.
Create swirls and the design for your necklace.
Before your necklace dries press your rhinestones into the wet paint.
Let your paint dry completely before wearing.
Carefully peel it off the freezer paper, make sure that it doesn't fold over or touch itself or it will stick.