How To Ice Tie Dye Biker Shorts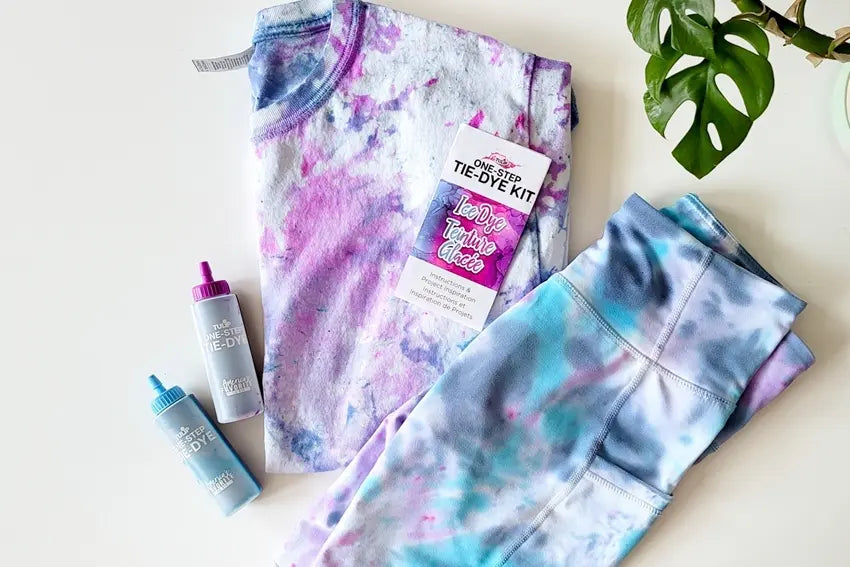 Whether you're heading out for a run or heading to bed, do it in style with tie dye! Artist Steffi Lynn will show you how to ice tie dye biker shorts and a matching tee using the Tulip Ice Dye One-Step Tie-Dye Kit. It's such an easy way to customize your workout gear and loungewear with totally cool tie-dye effects!
What you need:
- Tulip Ice Dye One-Step Tie-Dye Kit or kit of choice
- White 100% cotton biker shorts
- White 100% cotton T-shirt
- Ice
- Plastic bucket or bin
- Grate or rack (if not using Ice Dye Kit)
- Sealable plastic bag
Before we get started on learning how to ice tie dye a biker shorts set, make sure your shorts and T-shirt have been washed without fabric softener. You can leave them damp if you'll be tie dyeing your projects right after washing, otherwise simply dampen and wring out before you get started.
Next decide which tie-dye techniques you want to use to create your tie-dye patterns. Steffi Lynn chose to freestyle it and scrunch and bind her shorts and T-shirt in small knots using the rubber bands included in her kit. Any technique you decide to try will be fun – there's no wrong way to tie dye!
For her tie-dye projects, Steffi Lynn decided to try two different options. For one of her garments, she chose to follow the true ice tie-dye technique: first place your bound garment on the ice-dye grate and set over the top of a bucket or bin to catch runoff as the ice melts. Sprinkle dry dye powders over your project to your liking, then cover it completely with ice and let the ice melt entirely over time. As it melts, it will transfer the dye onto the fabric to create cool watercolor effects!
The other tie-dye method Steffi Lynn decided to experiment with was the traditional One-Step method of mixing each dye with water according to instructions, then squeezing the dyes onto her bound garment. You can still place it on the grate and over a bucket as you apply dyes to help keep the dyes from pooling under your project and getting dye where you might not want it. After applying the dyes, place in a sealable plastic bag and let set 6 to 8 hours or longer. No matter which option you choose, after the dye sets, rinse your garments under running water, removing the rubber bands. Then wash and dry according to instructions.
Once dry, your super cool tie-dye biker shorts set is ready to wear for a run, a yoga session or lounging with a fun flick. Whatever you're up to, you'll be doing it in your own colorful style!
Now that you know how to ice tie dye, what else are you thinking of making? Make sure to tag us on social @tulipcolorcrafts and share your ice tie-dye creations with us!