How to Ice Tie Dye with Fabric Paints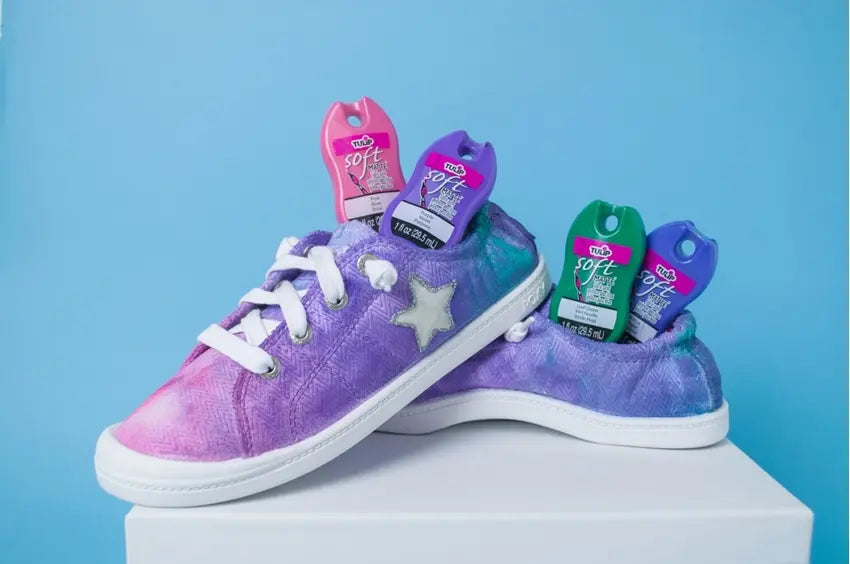 The tie-dye trend took off in a BIG way this year, and we couldn't be more excited about it; we LOVE tie dye! We also love seeing how creative and innovative people are getting with their tie dye, like these fabric paint ice tie-dye shoes from Freshly Fuji. Instead of using traditional Tulip One-Step Dyes to ice dye her shoes, she tried the technique with Tulip Soft Fabric Paints! Read on to see how to ice tie dye with fabric paints in this easy-to-follow tutorial.
What you need:
- Tulip Soft Fabric Paints of choice
- Tulip Dazzling Glitter Paints or Dimensional Paints
- White fabric shoes (canvas works best)
- Painter's tape
- Disposable cups
- Stir sticks
- Wire rack
- Bucket
- Ice
- Plastic bags
- Disposable plastic surface cover
- Cardstock
- White pencil or chalk pencil
This technique is a great way to cover stains on older shoes you already have, or to completely customize a brand-new pair! Before getting started, remove the laces from your shoes and cover your work space with a disposable plastic surface cover.
Use painter's tape to mask off the soles of the shoes to protect from paint when ice dyeing. Stuff them with plastic bags to help hold their shape while dyeing.
Shake your Soft Fabric Paints and add about 1 tablespoon of each into a separate cup. (You don't have to measure, you can just eyeball it.) Then add 2 to 3 tablespoons off water to each and stir to mix. The goal is to create a pourable consistency for each paint color. Tip: you can even mix the paint colors to create your own custom colors if you'd like!
Place the wire rack over a bucket, then place your shoes on top of the rack. Spritz with water to dampen, then tape cardstock around the shoes to help hold the ice in place. Pile ice on top of the shoes, completely covering them.
Pour your watered-down paints randomly over the ice cubes, then allow the ice to melt completely. As the ice melts, it will transfer the paints onto the shoes with super cool watercolor effects! Once all of ice has melted, leave the tape around the soles, and clean off the shoelace rivets with cotton swabs. Allow the shoes to dry overnight.
Once the shoes have dried, remove the tape and clean around the soles (if needed) with adhesive remover and cotton balls/cotton swabs. If desired, use a white pencil or chalk pencil to trace a star shape on the outside of each shoe.
Paint in your star designs with Soft Fabric Paint, then outline with Dazzling Glitter Paint or Dimensional Paint. Let dry completely.
And that's how to ice tie dye with fabric paints! Pretty easy, right?! How will you get creative with this fun technique? Tag us on social using @tulipcolorcrafts and let us know!