How To Paint Jeans with Dimensional Paint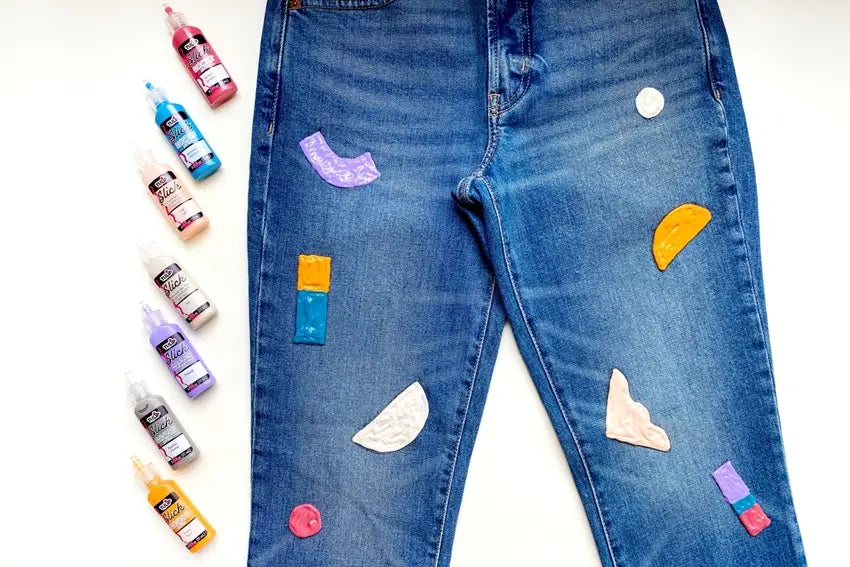 Say goodbye to basic denim with this tutorial on how to paint jeans from artist Steffi Lynn! Whether you need to strategically cover up a stain or make an old pair pop with personality, it's so easy to get creative with Tulip Puff Paints. Grab your favorite colors and get ready to make a fun new fashion statement!
What you need:
- Tulip Puff Paint – desired colors
- Jeans
- Pencil/marker
- Paintbrush (optional)
Why spend a fortune on designer jeans when you can make your own? Let's get started on learning how to paint jeans! For this tutorial we're using Dimensional Paints, but you can also use Brush-On Fabric Paints, or a combination of both.
For best results when it comes to working with fabric paints, make sure to wash and dry your jeans without fabric softener so the paints can properly bond with the fabric fibers. Next use a pencil to sketch out your designs where ever you like, then use a marker to help darken the lines a bit so you can see them when you are painting.
Steffi Lynn created retro 90s-style shapes on her jeans, but you can create designs in any style you like! After you have your designs sketched, it's time to paint your jeans! Shake the paints well, and try practicing on a paper towel if you don't feel ready to start painting directly on your jeans. Next trace and fill in the designs with your chosen colors of Dimensional Paint.
Tip from Steffi Lynn: Try using a paintbrush to help smooth the paint into an even layer if needed. Let your painted jeans dry flat until the paint is completely dry. And that's it! Now that you know how to paint jeans, what other designs will you come up with? Tag your fashion creations on social @tulipcolorcrafts and share with us!