Kids' Homemade Gift for Dad: Father's Day Doodle Tee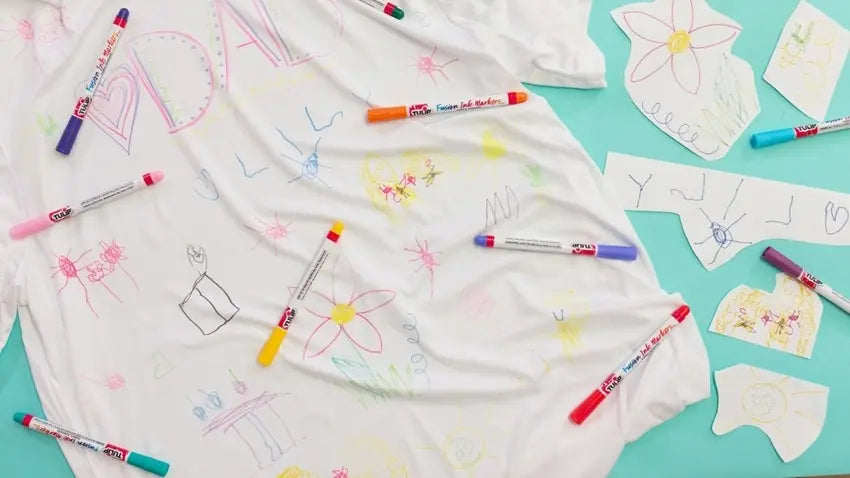 This super simple craft is great for kids to make for Father's Day! Just grab some Tulip Fusion Ink Bullet Tip Fabric Markers and let your little one doodle and draw to their heart's content for an adorable custom t-shirt. Follow this tutorial from Craft Box Girls to make a homemade gift for Dad that he'll always cherish!
What you need:
Tulip Fusion Ink Bullet Tip Fabric Markers
Iron-on transfer paper
Iron
Scissors
Tape
White shirt
Gather the supplies needed for this project. Be sure to prewash and dry the shirt you will use for your homemade gift for Dad!
Use the Tulip Fusion Ink Fabric Markers to doodle and draw on the iron-on transfer paper. Keep in mind that these designs will be reversed when they are ironed onto the t-shirt— any writing will need to be mirrored!
Use scissors to carefully cut out the designs from your transfer paper. Try to cut as closely to the designs as you can to remove white space.
Tape your designs onto the front of the T-shirt, design side down. Be sure to space out your designs so that they aren't overlapping. Meanwhile, turn your iron onto its hottest setting (no steam).
Carefully flip the shirt over and iron the designs for at least 45 seconds, moving your iron as needed to apply heat to all of the designs. Check to make sure your designs have transferred and apply more heat as necessary.
Remove the transfer paper, and your homemade gift for Dad is complete! Dads will love this custom tee full of doodles and drawings from the kids.
What kind of homemade gifts for Dad will you make with Tulip? Show us your creations and tag us on social media @ TulipColorCrafts!