Last-Minute T-shirt Costume DIYs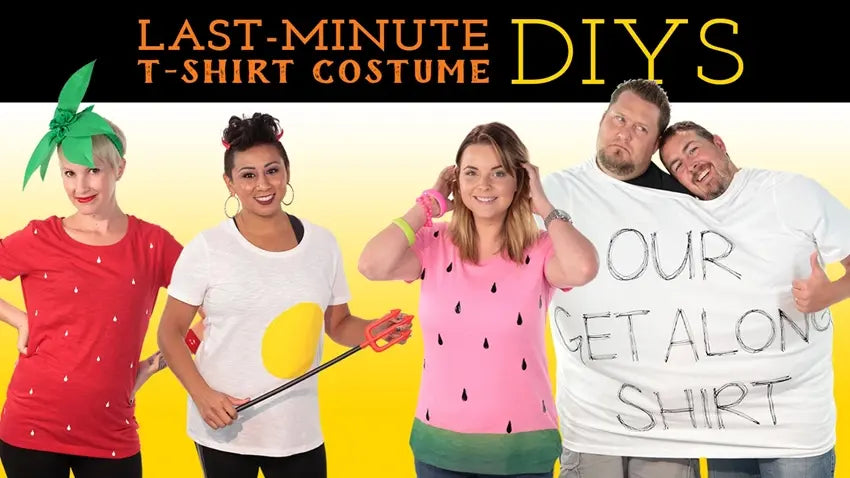 We've all been there ... Halloween is just around the corner and you don't have a costume to wear. Maybe you forgot, maybe you've been way too busy to think about costumes or maybe you simply didn't care until you got a last-minute invite to a Fright Night shindig. The problem is, the clock is ticking and you need a cool costume. Well, don't fret my friends, we have four fantastic last-minute costume ideas you can make the same day as your soiree ... All you need is a T-shirt and Tulip® Dimensional Fabric Paint! 
Who doesn't love watermelon?! You'll look sweet and summery wearing this adorable pink tee. Just a blast of 
ColorShot Fabric Spray
 and drops of 
black 3D paint
 will turn this shirt into a fun slice of creativity. Check out the video tutorial 
here
!  
If watermelon isn't your favorite flavor, there's always strawberry! Drops of white 3D paint make this red T-shirt berry nice. If you're feeling extra ambitious, cut some leaves out of green felt and glue onto a headband to go full-throttle fruit status. Whipped cream optional.   
If savory is more your style, this fun play-on-words deviled egg costume is easy to whip up! Use matte yellow 3D paint and the paper press technique on a white T-shirt for egg-cellent effects. Add horns and a pitchfork and you have yourself a sinfully good costume.  
This is the perfect costume for people who need an attitude adjustment! Or really, two people who don't mind getting a little cozy for a while. A large shirt and any color of 3D paint are all you need to create this costume that's inspired by naughty children and clever parents!