Last-Minute Valentine's Day Gift Ideas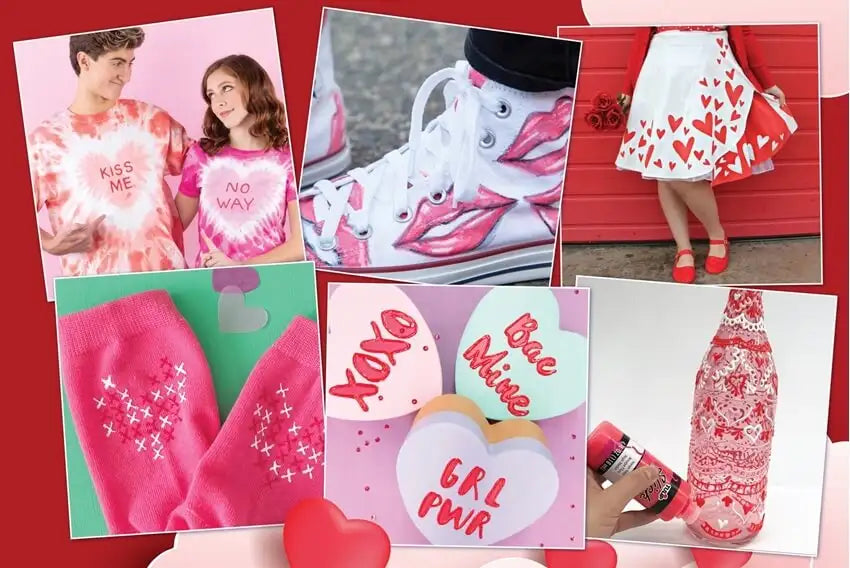 Maybe you've already had a busy year and it feels like it's almost Christmas again, or maybe you're just a master procrastinator; either way, you've got some Valentine's Day gifts to figure out - and fast! Before you panic and run around trying to find the last box of chocolate or a sad wilted bouquet somewhere, finish reading this post. We've got some great DIY Valentine's Day gift ideas you can easily make in an afternoon using Tulip® color products. No one has to know you waited until the last minute, and they'll love that you made them a gift from the heart! (Hey, sometimes it pays to procrastinate. We know from experience.)
What you need:
- Tulip Puff Paints (Valentine colors)
- Tulip ColorShot Instant Fabric Color
- Tulip One-Step Tie-Dye Kit (Kaleidoscope or kit of choice)
Looking for the perfect gift for all of your fab galentines? These conversation heart gift boxes are perfect for stuffing with yummy chocolates, a BFF necklace, nail polishes and other little goodies your gal crew will appreciate. Create personalized messages for each friend on the lids using Tulip Dimensional Paints for a quick and easy way to show some love to your friends this Valentine's Day.
Socks are always a fun gift idea; we all wear them, and who doesn't love having a super cute pair to keep their feet warm AND brighten up their outfit?! Add a personal touch with Tulip Dimensional Paint in a sweet faux cross stitch heart design like shown here, or you could even create patterns along the bottoms to make no-slip socks for your Valentine. They'll have cozy toes and a happy heart this Valentine's Day!
Speaking of cool wearables for your feet, has anyone ever turned down a personalized pair of Chucks? We didn't think so. Give your "solemate" the gift of your artistic flair with a set of kicks decorated with Tulip Fabric Markers. You could create bold lip prints like shown here, or hearts or words; get creative with it! Your Valentine will love having a pair of shoes with such a personal touch.
This set of tie-dye conversation heart T-shirts is perfect for the kitschy couple in your crew (maybe that's you)! Perfect for wearing on date night out or to a Valentine's Day party, up the fun factor with the heart tie-dye technique in bright tie-dye colors and silly sayings you can easily draw on with Tulip Fabric Markers. You'll love creating these shirts as much as you'll love wearing them this Valentine's Day!
Henna designs look so artistic and elegant, and would make the perfect gift for the artsy Valentine in your life. These henna-inspired jars are decorated with Tulip Dimensional Paints in Valentine colors and double as great gift packaging. You could fill them with bath salts, flowers and other items depending on the shapes of your jars. They'll look so pretty sitting out on display too!
For the fashionista in your life, there's Tulip ColorShot Instant Fabric Color! Every fashion lover appreciates a one-of-a-kind outfit, so consider getting out the ColorShot and making a dress fit for the queen of hearts. We went wild with our heart motif, but you can simplify yours if you want and still achieve stunning results. And you're not limited to dresses ... try creating a heart design on a jean jacket, a T-shirt or even a tote bag! Whatever you make, we know it'll capture your Valentine's heart - because it's from yours!
Win the title of cutest couple in your crew with a set of matching tie-dye outfits that are easy to wear and easy to love! Keep them simple with one color or go all out with lots of bright tie-dye colors your boo will love. Guaranteed to be your new go-to outfits for any occasion!