Marbled Glow Paint Rocks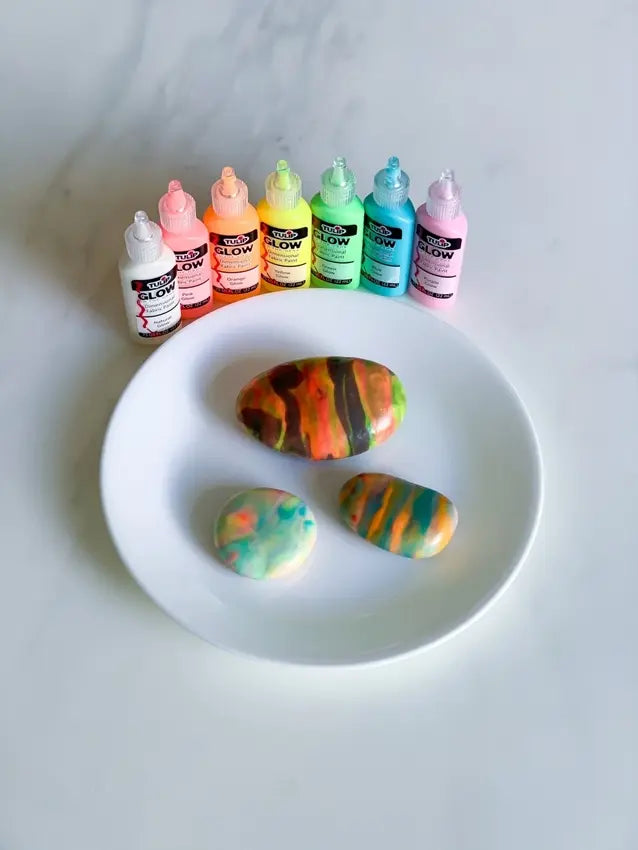 We do not know about you, but we're getting into our favorite time of year: GLOW-IN-THE-DARK SEASON! This fun marbled glow paint rocks craft is a great way to get your kids into the spirit of the season with a little less "creepy," and a lot more "cool." 7 Days of Play shows you how to get your glow on with this easy painted-rocks tutorial using Tulip Dimensional Glow Paints.
Before getting started, make sure your rocks are clean and free from dust. Paint each rock with a basecoat of white acrylic paint, then have the kids choose their favorite Glow Paint colors they would like to work with.
In a disposable cup, combine 2 parts Glow Paint to 1 part Tacky Glue, and stir to mix. If the mixture is too thick, add a small amount of water and mix. Repeat this in a new cup for each paint color.
Once you have all chosen Glow Paint colors mixed with Tacky Glue, pour each into one single cup, one at a time. Use a stir stick to marble the paint if desired, before pouring onto the rocks.
Place the rocks (with a white basecoat) onto the wire rack with heavy paper underneath to catch the excess paint. One at a time, pour the combined paints onto each rock.
Repeat pouring an additional layer if the rocks need! Once everyone is happy with the look of their rocks, let them dry on the rack overnight.
Check the rocks to make sure they've completely dried, then charge them up and let them glow!
And that's it! This fun, easy painted rocks craft for kids will have glowing reviews from your crew.