Mother's Day Crafts: Marbled Tie-Dye Flower Pots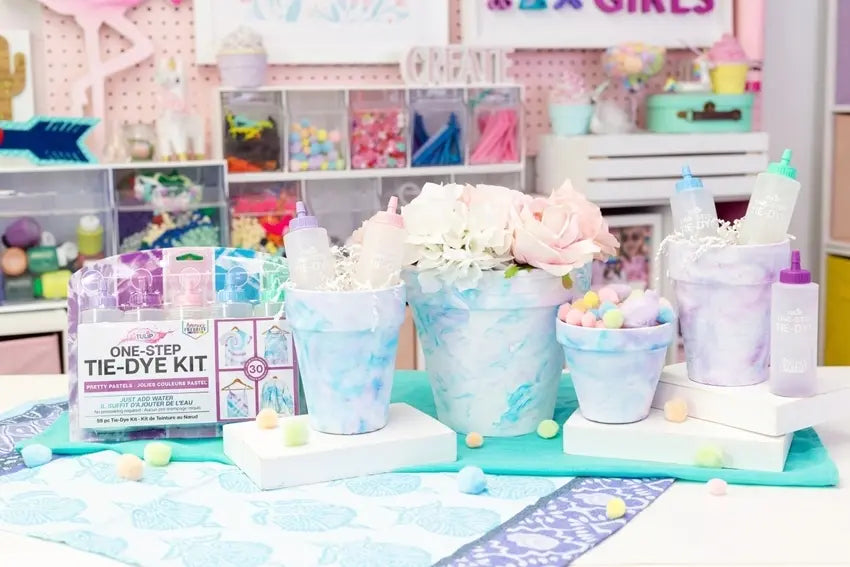 Give mom the unique handmade gift she deserves with this super simple Mother's Day craft! This tutorial from Craft Box Girls will teach you how to make an elegant marbled flower pot with the Tulip Pretty Pastels One-Step Tie-Dye Kit. The playful pastels in this kit are perfect for creating colorful spring décor that moms will love! 
What you need:
- Tulip Pretty Pastels One-Step Tie-Dye Kit
- Shaving cream
- Terracotta pots
- Disposable tray
- Plastic knife
- White acrylic paint (optional)
Before you get started on this Mother's Day craft, thoroughly clean your terracotta pots. For this project, we painted the exterior of the pots with white acrylic paint as a base so that the pastel tie dye can really shine! You can skip this step if you are already using a white or light-colored terracotta pot.
Fill your disposable tray with shaving cream and prepare your tie-dye solutions. There's no need to splurge on the expensive stuff— the shaving cream is just a medium for marbling your dyes!
Apply your desired colors to the top of the shaving cream. Try to stick to only 2 or 3 colors per pot, otherwise the colors may become muddled. Use your plastic knife to swirl the shaving cream, creating unique marbled patterns.
Gently place your terracotta pot on its side into the shaving cream and roll it so that the exterior gets completely covered in the marbled shaving cream. You may find it helpful to roll it more than once for complete coverage and more intense colors.
Let the shaving cream and tie dye dry for at least 10 to 12 hours. The shaving cream will evaporate, and you can just wipe off the residue with a paper towel. Your Mother's Day craft is now complete! Fill it with mom's favorite flowers for a fun gift that will look great in her garden!
What Mother's Day crafts will you create with Tulip One-Step Tie Dyes? Show us what you made and tag us on social @TulipColorCrafts!