Paint Your Own Rose Shoes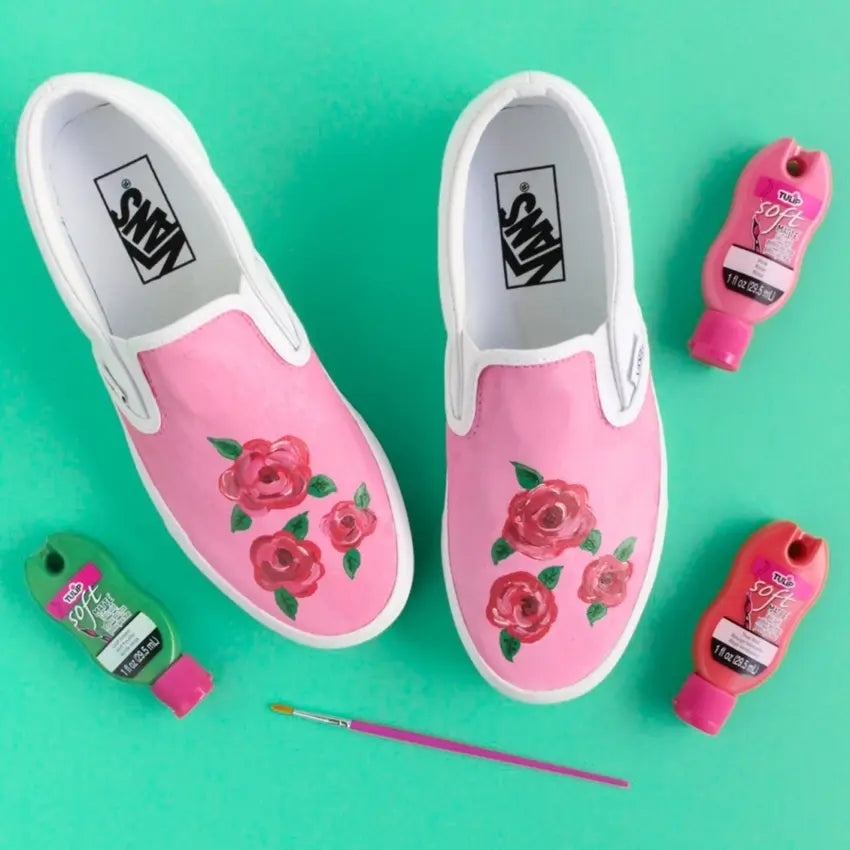 Kick up your feet in your own creative style with Tulip® Soft® Fabric Paint! These painted rose shoes from Crafterward are so fun for spring and summer, and are actually super easy to make without having to use stencils. Check out the tutorial and get inspired to customize your kicks with pretty petals!
What you need:
- Tulip Soft Fabric Paints (red, green, white, black) or get the Rainbow 10 Pack for extra colors
- White canvas slip-on shoes
- Paintbrushes
- Paper plate for paint palette
Make sure your shoes are clean before painting. If you're worried about accidentally getting any paint on the soles, you can always tape them off with masking tape!
Mix some red and white paint together to create the shade of pink you like, then paint each shoe. Let dry.
Paint as many red flower shapes as you like in different sizes on the toe area of each shoe. Use brown paint to create accents for shading.
Create another shade of pink by mixing paints and adding a few strokes of this color around each flower for highlights. Have fun with it - there's no wrong way to do it! 
Paint leaf shapes around each flower and add accent lines with black or a darker green. Let dry completely.
Everything's rosy when you have a fabulous pair of shoes. What are you waiting for? Grab your paints and let your creativity bloom!