Palm Leaf Baseball Cap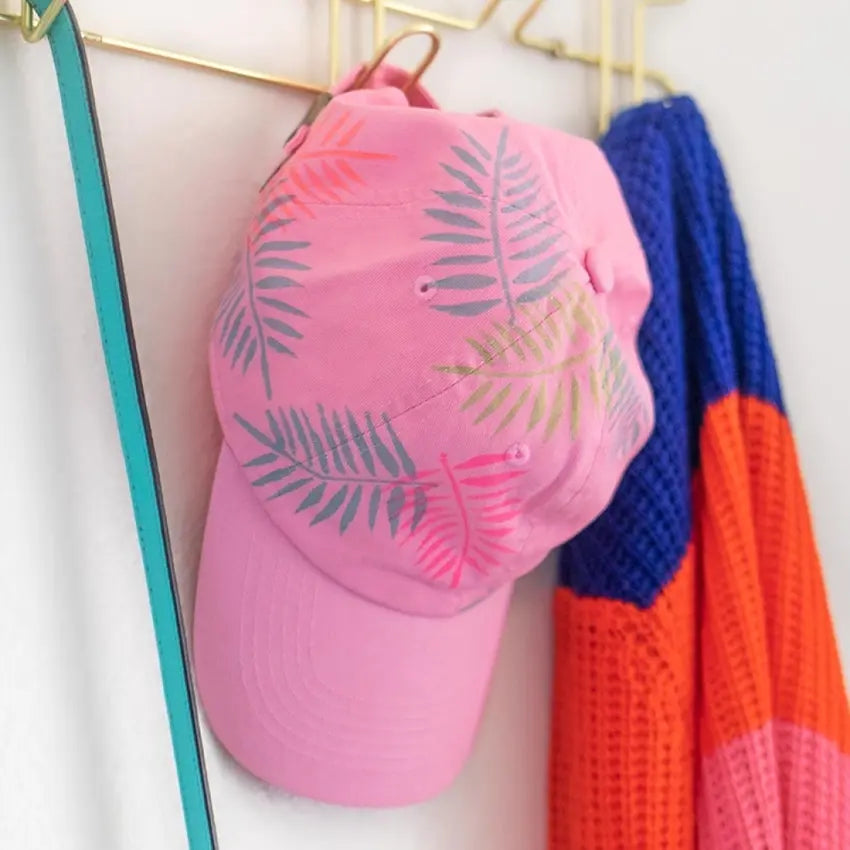 At Tulip, we love seeing the many ways makers and creators put our products to good use. We're tipping our hat to our talented friend Holly at Club Crafted for creating this fun and fabulous Palm Leaf Baseball Cap! Not only is it the freshest thing we've seen since Will Smith hailed a taxi to his new home in Bel-Air, we also know that Holly made it in five minutes, using nothing but a hat, a stencil, and our Tulip Neon Fabric Markers. A simple, quick, budget-friendly project with super fashionable results? Sign us up! If palm leaves aren't your thing (WHY do you hate California?), keep in mind that you can swap out your stencil choice for anything under the sun.
Speaking of: You know who also loves palm leaves? The sun!
What you need:
- Tulip Graffiti Fabric Markers - Neon Pack
- Baseball cap
- Sticky stencil in design of choice
Once you've settled on your hat and stencil options (we think that making a commitment to colors and design is sometimes the hardest part of these types of projects), peel and press the stencil onto a section of the cap.
Color in the stencil openings using one of the Fabric Markers, using your free hand for extra support if needed.
Once you've finished coloring in the designs, carefully peel the stencil off the cap. Place it elsewhere on the cap and repeat the process, with as many colors as you'd like, until you're satisfied with the results. Don't shy away from overlapping placement on occasion. This helps create depth!
That's it! And the best part of using Tulip Fabric Markers? No heat setting necessary - just let it air dry for permanent results.
Sunny days are here again - so put your cute new cap on and get out there and enjoy the weather!