Personalized Hand-Painted Shoes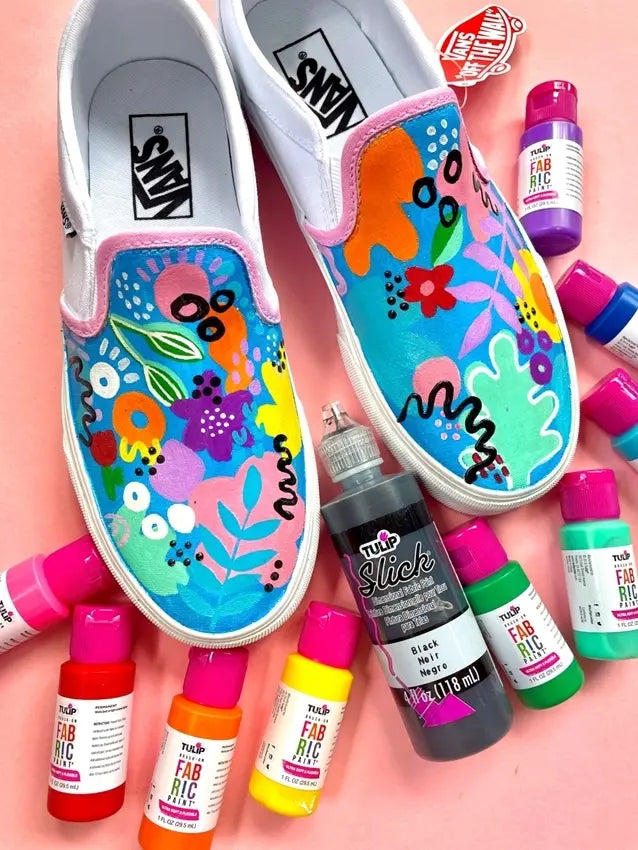 Have you ever gone shoe shopping but couldn't find the right pair to match your style? Here's a creative workaround: personalized hand-painted shoes! This tutorial from Danielle Lazala will show you how easy it is to turn a basic pair of white canvas shoes into a work of art that you can wear with Tulip Brush-On Fabric Paints and Puff Paint. Creating your own colorful custom kicks is a great way to add a unique flair to your wardrobe!
What you need:
      

Water-resistant sealer (optional)

      

White canvas shoes

      

Paintbrushes

      

Palette
Gather your supplies for this project and pick which Tulip Brush-On Fabric Paint colors you want to use for your hand-painted shoes. Make sure your canvas shoes are clean and free of any dirt and debris.
Tulip Brush-On Paints can be mixed to create your own custom colors, and can even be watered down to create watercolor effects! Squeeze some paint onto a palette and mix to create unique colors for your hand-painted shoes.
Apply Fabric Paint onto the canvas shoe as a base. Apply one or two coats of paint as desired, allowing to dry between coats. Try to avoid getting paint on the rubber soles—clean with a cotton swab and water to remove any excess paint.
Now it's time to get creative and paint fun designs onto your hand-painted shoes! For this project, Danielle Lazala began with a layer of white Fabric Paint to make their colored-designs really pop.
Once the white paint has dried, paint over your designs with your desired colors! Repeat this process until your hand-painted shoes are decorated to your liking.
It's time to add some finishing touches to your hand-painted shoes with Tulip Puff Paint! Squeeze Puff Paint directly onto the shoes to add a touch of textured fun to your custom kicks. Puff Paints are perfect for adding dimensional accents to your project! Allow to dry completely.
Apply a water-resistant sealer to lock in your custom designs and allow to dry completely. This step is optional—Tulip Fabric Paints dry permanent and machine washable for colorful fun that lasts!
Once your shoes have dried completely, they're ready to wear! These personalized hand-painted shoes are the perfect way to show off your creativity with any outfit.
Will you be making your own personalized hand-painted shoes with Tulip Fabric Paints? Show us your style and tag us on social media @TulipColorCrafts!