Celebrity Inspired Tie Dye Maxi Skirt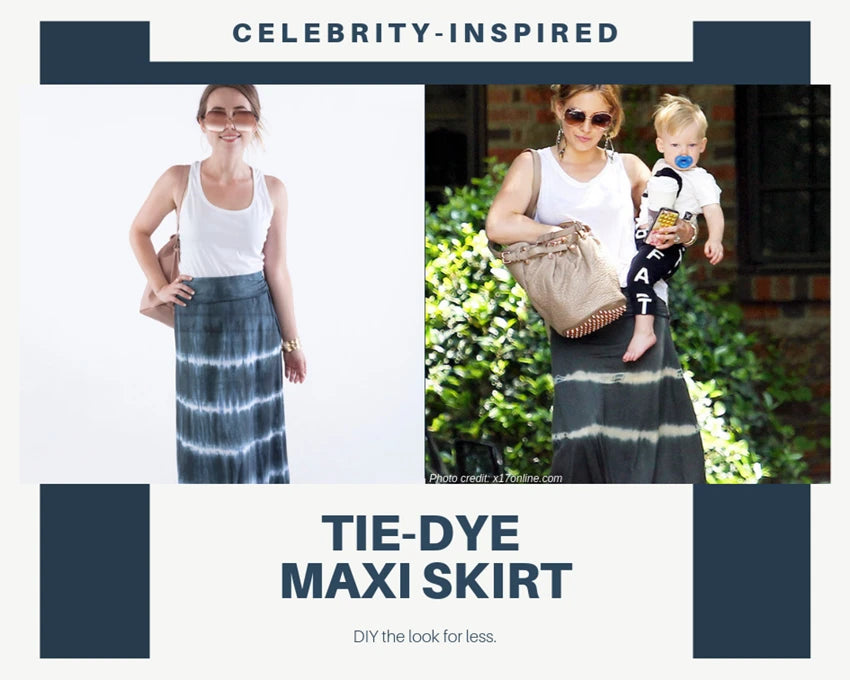 *Photo credit: x17online.com

Before tie dye launched into a full-on comeback and a became a true force in the current fashion world, Hilary Duff had no problem sporting the trend and looking amazing in it. Seen here in this oh so fab long skirt tube dress by Love Tanjane, trendsetter Hilary modified her tie-dye maxi dress into a maxi skirt and paired with a white tank for casual chic vibes. Even though this particular dress is no longer available, we're still crushing on it big time, so we decided to make our own tie-dye maxi skirt version using Tulip® One-Step Tie Dye in Black. Read on to see how easy it is to create your own celebrity-inspired tie-dye maxi skirt for so much less than what you'd pay for designer wear!
What you need:
- Tulip 1-Color Tie-Dye Kit in Black (2 to 3 kits) 
- White maxi skirt in 100% natural fiber fabric (like cotton or rayon)
- Plastic surface cover
To create your own Hilary Duff-inspired tie-dye maxi skirt, bind your clean, damp skirt horizontally (on a covered work surface to protect from dye) with rubber bands from your Black Tie-Dye Kit. We used 4 evenly spaced rubber bands but you can absolutely add more if you want - there's no wrong way to tie dye! Once your skirt is bound, mix up your dye according to instructions, then apply to the skirt in between rubber bands, allowing some white space on either side of each rubber band. Allow the dye to set then launder according to instructions. It really is THAT easy!
To replicate Hilary's super chic but casual tie-dye look, pair your tie-dye maxi skirt with a white tank top, some strappy sandals, hoop earrings, a bucket bag and a large pair of sunnies. Now you're ready to hit the town lookin like a celebrity!