Puff Paint Kicks Flip for Your Next Magic Adventure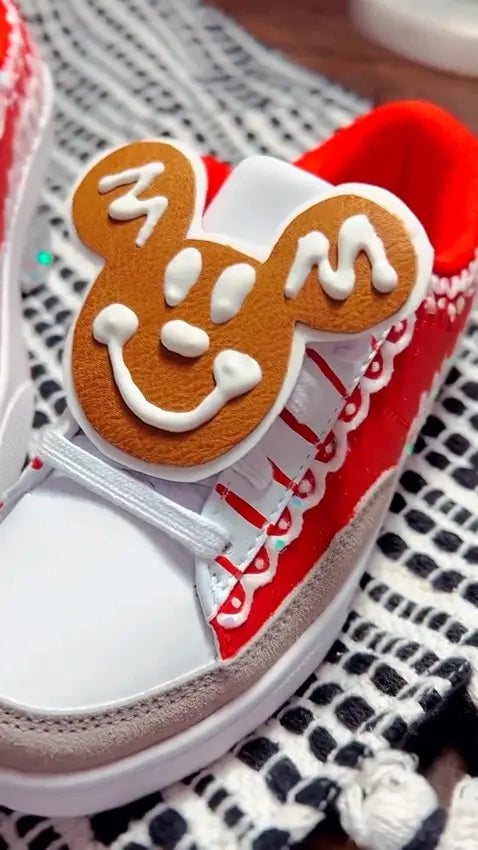 Learn how to use Tulip Puff Paints to turn a plain pair of shoes into something special with this super simple tutorial from @flossie_and_flair! This kicks flip project is perfect for when you're planning a fun trip to the amusement park with the kids. Grab some Tulip Puff Paints and make these shoes, then get ready to make some magical memories with your little ones!
What you need:
White shoes
Tulip Puff Paint, Diamond and White
Tulip Brush-On Fabric Paint, Red
Glitter (optional)
Paintbrushes
Scissors or mouse-shaped cookie cutter
Faux leather
White craft foam
Aleene's The Ultimate Multi-Surface Adhesive
Aleene's Spray Acrylic Sealer, Matte (optional)
Make sure your shoes are clean and free of any dust and debris, then carefully paint the shoes' sides using your choice of Brush-On Fabric Paints. Use a small paintbrush to create thin lines between the eyelets.
Use the end tip of your paintbrush to carefully remove some paint and create a decorative trim near the eyelets and just above the sole.
Once you're done removing paint to make your designs, trace them with Puff Paint! You can alternate between the plain white and glittery diamond Puff Paints as you'd like. For extra sparkly shoes, sprinkle some glitter onto the paints before they dry. Set the shoes aside and allow the paints to dry completely.
While your painted shoes are drying, use a cookie cutter or scissors to create mouse shapes from a thin sheet of faux leather and craft foam. Once all your mouse shapes are cut, use The Ultimate Multi-Surface Adhesive to glue the faux leather onto the craft foam. Use Puff Paints to create a smiling face on each mouse and allow to dry completely.
Glue a completed mouse to the tongue of each shoe, and your shoes are just about done! For extra protection, spray the shoes liberally with Aleene's Spray Acrylic Sealer and allow to dry completely. Your kids will surely enjoy wearing these custom magical kicks at your next trip to the amusement parks!
What other crafts are you creating for your kids with Puff Paints? Show us what you make and tag us on social media @TulipColorCrafts!