Queen of Hearts ColorShot DIY Dress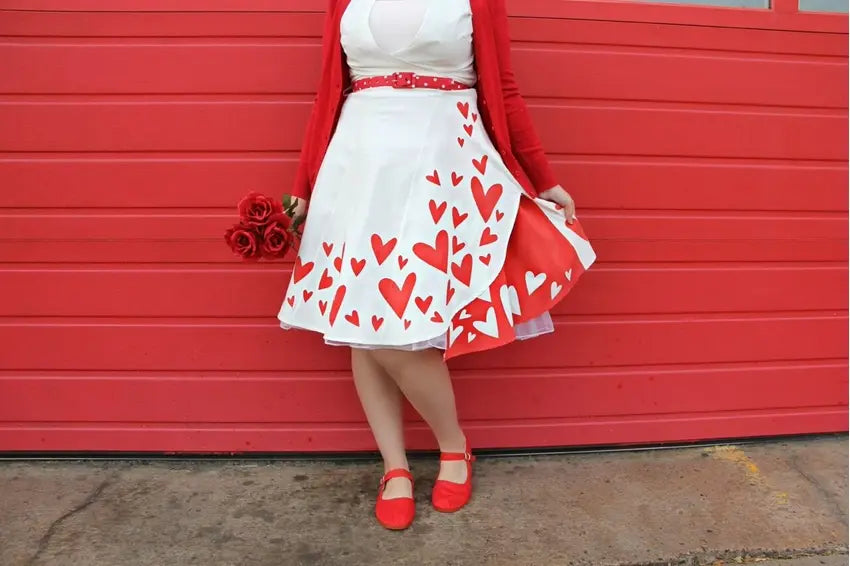 Whoever said "wear your heart on your sleeve" had a pretty good idea ... we kicked it up a notch and went with a bunch of hearts ... on a dress! Whether you're looking for the perfect Valentine's Day outfit or a frock that makes you want to frolick, your search stops here! All you need is freezer paper and Tulip® ColorShot Instant Fabric Color to make a DIY dress everyone will heart.
Supplies needed:
- Tulip® ColorShot Instant Fabric Color - Red
- White dress
- Freezer paper
- Pencil
- Craft knife
- Iron
- Plastic tablecloth
Creating a freezer paper stencil is as easy as drawing various hearts on a piece of freezer paper and cutting them out with a craft knife! Check out the graphic for a quick tutorial on the process, from start to finish. 
After you've iron the stencil onto your dress, cover any exposed areas of the dress that you don't want any color on with additional freezer paper to protect from overspray. Spray one light coat of color over the stencil openings and let dry. Repeat with additional light coats until you are happy with the color. Let dry completely and then remove your stencil.
Repeat the process on other parts of the dress if you feel like it! You can even accent any pleats or folds with color; just mask off that section of the dress before spraying, and iron any heart cutouts leftover from creating your stencils to create a reverse stencil effect!
Look at you, stealing hearts in your stunning new dress!
Special thanks to our model and super creative friend Sarah from Hazel and Bean. You can follow her on Instagram here.