Raised Webbing Spider-Man Cosplay Mask with Puff Paint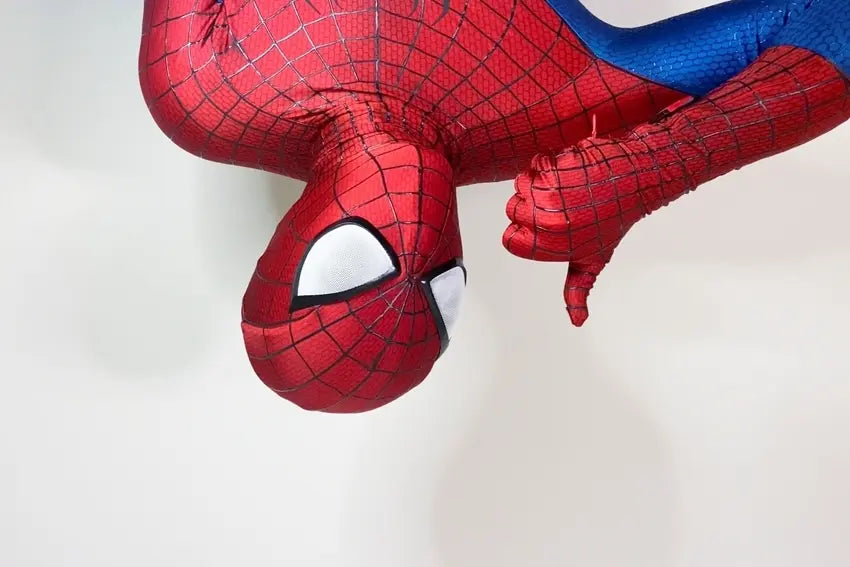 Everyone's friendly neighborhood Spider-Man has been a staple in comic books, movie screens, lunchboxes, and backpacks— it's never hard to spot a Spider-Man on Halloween or at your local Comic Convention! Take your Spider-Man cosplay to the next level with Tulip! This tutorial from Scrapper Costuming will show you how to upgrade your store-bought Spidey costume using Tulip Puff Paints for raised webbing designs.
What you need:
Tulip Puff Paint, Black
Tulip Fabric Marker (optional)
Spider-Man Mask
Cardboard
Binder or sewing clips
Before painting, tap the bottle down to prevent bubbles from ending up in your paint lines. If your Spider-Man mask doesn't have printed webs, you may want to draw on some web guidelines with a Tulip Fabric Marker to trace with Puff Paint.
For extra neat results on your Spider-Man cosplay, take a moment to practice drawing neat, straight lines, joining ends of paint lines, and changing the pressure to change the thickness of paint on a piece of scrap cardboard.
Stretch the Spider-Man cosplay mask over a piece of cardboard and position it so the mask is taut and flat. Place clips on the end to help hold the mask in this position.
Use black Puff Paint and trace the web pattern on the mask to match your webbing. Make sure to match the width of your paint lines to the width of the printed webs on your Spider-Man cosplay mask to ensure the most realistic effect! Try to keep a consistent speed while painting for crisp and neat lines.
Allow the freshly-painted section to dry completely. Once the Puff Paint is dry, unmount the Spider-Man cosplay mask and reposition and clip it so that an unpainted section is stretched across the cardboard.
Repeat steps 2-4 until all web lines on your Spider-Man cosplay mask are painted. A second layer of Puff Paint will give the webs an even more 3D appearance if a more prominent effect is desired!
After painting is complete and all the Puff Paint has dried, remove the mask from your board and attach eyes for your mask. Try taking this custom cosplay a step further and use Puff Paint on the whole Spidey suit! Enjoy wearing your raised webbing Spider-Man cosplay whenever you need a friendly neighborhood Spider-Man!
How are you using Tulip Puff Paints to customize your cosplay? Whether it's for Halloween or a Comic Convention, we want to see your pictures of Spider-Man cosplay with Tulip! Tag us on social media @TulipColorCrafts.