Reverse Tie Dye 100 Days of School Project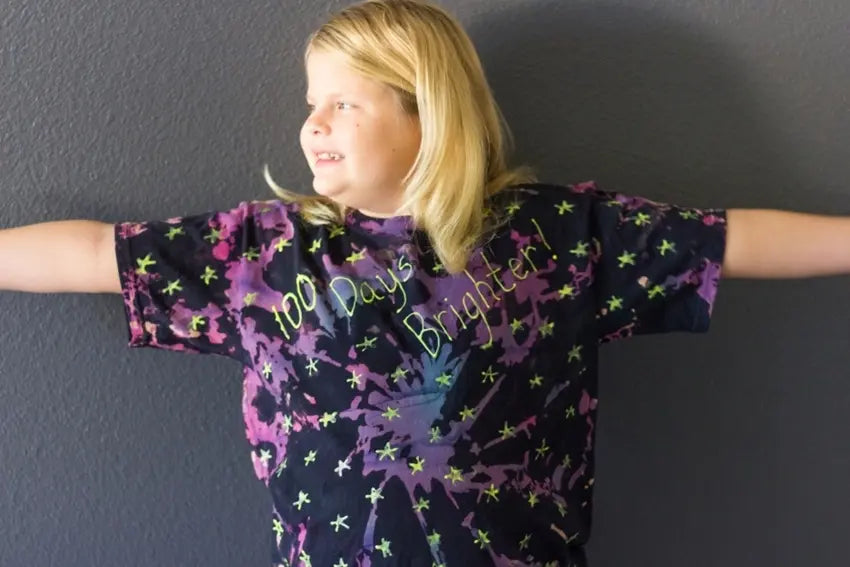 Get your superstar student ready to celebrate all of their hard work in the new school year with a 100 Days of School project that glows with creativity! A reverse tie-dye T-shirt using the Tulip® 2-N-1 Reverse Tie-Dye Kit makes a perfect galaxy backdrop for 100 glowing stars created with Dimensional Glow Paint. The result is a 100 Days of School project that's out of this world!
What you need:
- Tulip 2-N-1 Reverse Tie-Dye Kit - Vibrant or Tulip Reverse Tie-Dye Kit + One-Step Tie-Dye Kit Celestial
- Tulip Glow Dimensional Fabric Paint 4 oz.
- Black T-shirt
- Plastic table cover
- T-shirt form or cardboard
- Wire rack
First make sure your T-shirt has been washed without fabric softener. Lay it out flat on your work surface.
Pinch the T-shirt fabric where you want the center of your galaxy design to be and begin twisting your shirt around into a spiral shape. For an extra tight twist, you can even try using a fork to twirl your shirt.
Keep twisting until the entire shirt is in a spiral.
Bind your shirt with three rubber bands, crisscrossing the bands to create six wedge shapes.
Place a wire cooling rack over your sink or a bucket and place your bound shirt on top. Wearing gloves, mix the Color Changer according to instructions. Apply Color Changer as desired onto the shirt and let it process for time recommended in instructions.
Once the Color Changer has processed, remove rubber bands and launder according to instructions. Now it's time to add your tie dye! Dampen your shirt and place on a covered work surface, then mix up your dyes according to instructions. Apply randomly to your shirt as desired, then let set 6 to 8 hours or more and launder as recommended.
Place a T-shirt form or cardboard inside the shirt to prevent paint from soaking through to the backside. Use Yellow Glow Paint to create "100 Days Brighter" wording or desired phrase for your 100 Days of School project. Then create 100 stars all over the front of shirt (if you can)!
Let your shirt dry flat until the paint has completely dried.
Your kiddo will be glowing with style and school year success!