Shibori Tie Dye Dog Bed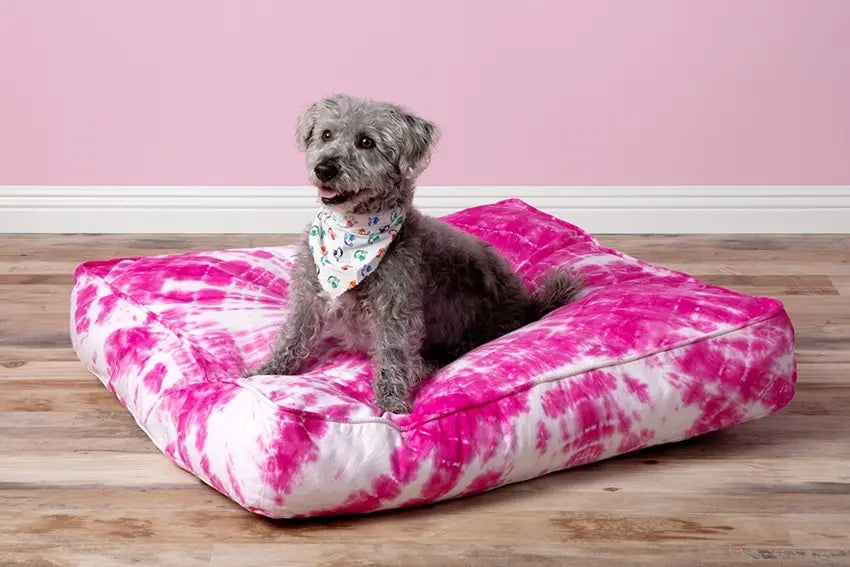 Tie dye doesn't just have to be for people ... our furry family members love it too (even if they don't know it yet)! Skip the same old stuff you find in stores and get creative with pet scarves, T-shirts or even a dog bed like we made (we decided to go big or go home). Okay, you might be thinking, that sounds great, but tie dyeing a dog bed sounds really hard. Spoiler alert: it's not, especially when you use Tulip One-Step Tie Dye! Check out our video below.
What you need:
- Tulip One-Step Tie Dye - desired colors or kit
- 100% cotton white dog bed
- Zip ties (or you can use the rubber bands from your tie-dye kit)
- Plastic surface cover
- Paper towels
First choose your tie-dye colors. If you decide to use multiple colors, you can go with a kit option, or select a few 1-color kits. Tip: Just make sure the colors are compatible so that if they blend on the fabric, they don't turn muddy brown (think color theory).
Make sure you remove and wash the cotton covering to the dog bed (without fabric softener). You can then take it straight from the washing machine and start binding according to the technique you want to do. If you're not going to be dyeing in after washing, make sure you dampen it before dyeing (not soaking wet, just damp for best results).
The technique we show in the video is a 
bullseye tie-dye pattern
, but you can do any 
tie-dye technique
 you like! And the beauty of tie dye is that there really is no wrong way to do it. Make sure you follow your One-Step Tie-Dye Kit instructions for tie dyeing and laundering. PS. If you're new to tie dye, here are some helpful tips on 
how to tie dye
 and have a great experience! (Tie dyeing is always a great experience but you know what we mean.)
Jenz and Otto are also pumped to have a cushy new tie-dye dog bed. We see some colorful dreams in their future!