Stay Comfy and Stylish in these DIY Two-Mile Wear Outfits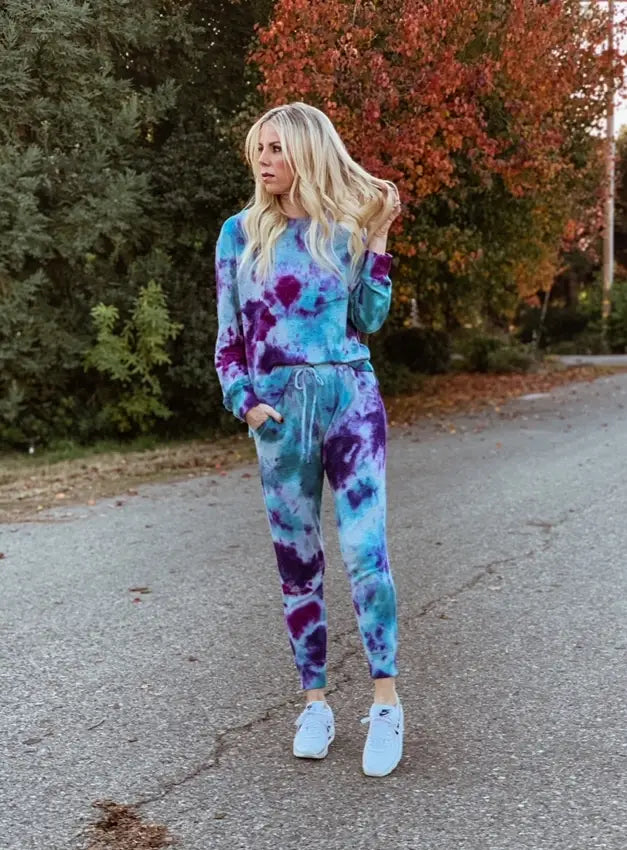 You might be wondering just what "two-mile wear" is, but chances are, you're already sporting the trend and just don't know it! This casual, comfy fashion trend cropped up in the past year with most of us spending a majority of our time at home. We all ditched our business-oriented wardrobes for loungewear with a cozier vibe. And with a lot of us still operating from home headquarters, it doesn't make sense to get dressed in our very best! (We're not even sure we want to after exploring all of the cool ways we can rock two-mile wear.) So we put together a roundup of our favorite DIY two-mile wear looks to help you keep your fashion fresh and your vibe comfortable in the year ahead.
Whether you're kicking up your feet with a good book or kicking them up with some cardio, leggings are a two-mile wear must! But that doesn't mean they have to be boring; give yours a rockin' rainbow makeover with tie dye and any tie-dye patterns you prefer. There's no such thing as a wrong way to wear tie dye!
A soft hoodie goes a long way for comfort and versatility in your two-mile wear looks. You can pair it with jeans, sweatpants, leggings and so much more! Give yours a makeover to remember with tie-dye stripes in your favorite shades for some seriously fab style.
Comfortable shoes are totally part of the two-mile wear trend! Personalize yours with Soft Fabric Paints in splatter patterns for such an easy way to add some extra color to your kicks. PS. This is a great way to cover stains or brighten up a pair of shoes that are a little worn but you're not ready to give up yet!
Biker shorts are back in a big way, and we for one, are super happy about it! They're comfortable and great for lounging or working out in – all summer long. Give this two-mile wear trend a try with ice tie dye in shades that suit your mood: so chill.
Tank tops are always on trend, whether you're sporting them now as part of your two-mile wear, or you've always loved a cool summer look. Add an extra personal touch to your tanks with fun tie-dye patterns for an easy way to express your style in full color.
No one said you have to go for a jog to head out in a jogging suit! Like most two-mile wear, a jogging suit is perfect for wearing no matter what you're up to on any given day. A tie-dye jogging suit you dyed yourself is even better! Whether you prefer a cool color palette or any shade that's super bright, you can never go wrong with tie-dye two-mile wear. (We might be a little biased but we're fine with that.)
Because you can never have too many pairs of comfy shoes, here's another DIY we love! These sneakers put a twist on the ice tie-dye technique by doing it with Soft Fabric Paint instead of dye powder. Soft Fabric Paints are permanent on fabric, so they'll be able to keep up with your on-the-go style. Don't you love the cool watercolor effects?!
If a loose, flowy tank doesn't fit the definition of two-mile wear, we don't know what does! Show off your sense of humor with fun quote art you can customize yourself with ColorShot Fabric Spray Paints. These easy-to-use spray paints are made just for fabric, so they dry flexible and washable – perfect for comfort anywhere your day takes you. (We vote to bed for a nap.)
Speaking of naps, a cute shirt and shorts set is never a bad idea to have in your two-mile wear wardrobe. You can catch some ZZZZs in them as easily as you can throw on a pair of sandals and head for a picnic outdoors. Give yours style that pops with polka dots made with Soft Fabric Paints. Polka dot patterns are incredibly easy to DIY, and the great thing is they never go out of style. This is also a fantastic option for salvaging a loungewear set you may or may not have spilled sauce on and stained. Just saying.
How are you customizing your two-mile wear with Tulip Color Products? Make sure to tag us on social @tulipcolorcrafts and share with us!