Summer Craft Idea: Sprinkles Shoes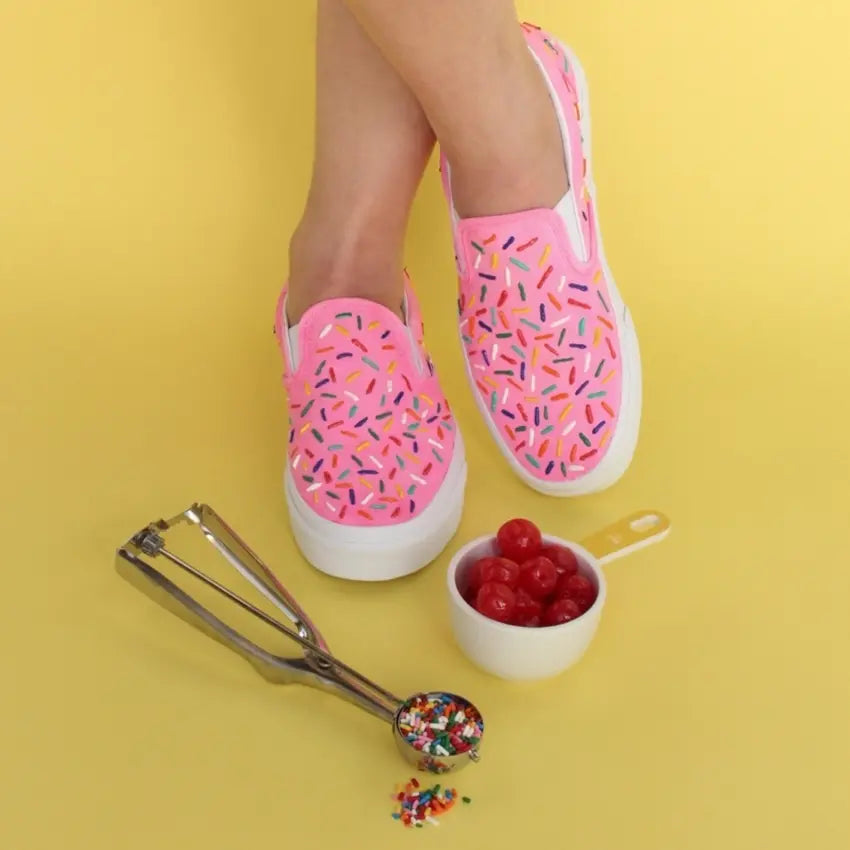 If you're looking for summer craft ideas - or just a super cute pair of shoes - you've come to the right post. We're still in the middle of winter at the moment, but we're already dreaming of warmer weather, lots of sunshine and days lounging by the pool. And is there anything more summery and sunshiney than ice cream topped with bright sprinkles?! Since ice cream is the perfect complement to summer, then a pair of ice cream sprinkles shoes is the perfect summer craft, don't you think? Check out this easy tutorial from Crafterward using the all-inclusive Tulip® Crafter's Storage Tub Kit ... the only thing you need to add are the shoes! The result is a pair of kicks with cool summer vibes.
What you need:
- Tulip Crafter's Storage Tub Kit
- White canvas shoes
- Tape
Cover your work surface with protective plastic just in case you have any messy mishaps. From your Crafter's Kit you'll be using the brush-on fabric paints, paintbrush, stencils, glitter and dimensional paints.
First brush the brush-on fabric paint onto both shoes, covering the entire shoe with color. Crafterward chose pink, but feel free to use whatever color you like!
Cut out two letter stencils for your monogram and tape one in place on the back heel of each shoe. Depending on the glitter color you are going to use, apply the corresponding color of paint into the stencil openings. 
While the paint is still wet, sprinkle glitter over the stencil openings and shake off excess. Remove stencils and let dry completely.
Use different colors of dimensional paints to create "sprinkles" all over each shoe. Let dry.
This summer craft is like walking on sunshine!
These ice cream with sprinkles shoes are such an easy summer craft idea that's a real treat for your feet!