Tie-Dye Jean Jacket for Kids' Fall Fashion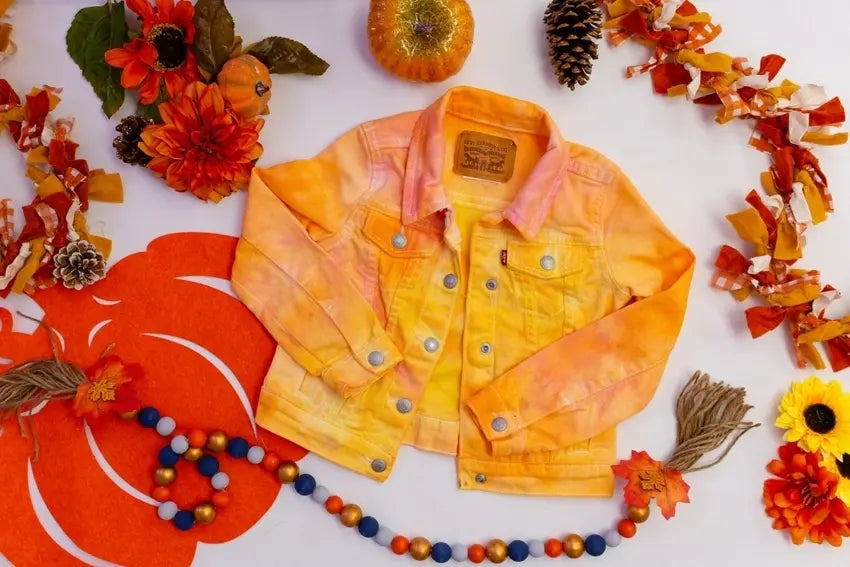 Tie dye is a great way for kids to get creative with their fall fashion! This tutorial from Craft Box Girls will show you how to make a colorful tie-dye jean jacket for kids that's just perfect for chilly autumn weather using the Tulip One-Step Tie-Dye Mega Value Kit. This kit has everything you need for total tie-dye fun with fabulous fall colors, so let your kids experiment and create custom clothing with tie dye!
What you need:
Tulip One-Step Tie-Dye Mega Value Kit
Kids' jean jacket
Protective surface cover
Wire rack + sheet tray (optional)
Let your little one pick out which colors they want to use on their tie-dye jean jacket and prepare the tie-dye solutions. For a classic fall palette, stick to warm colors like reds, oranges, yellows, and pinks!
Prewash the jean jacket, then fold and bind using your desired technique. For this project, Craft Box Girls used the super simple crumple technique— just bunch and bind with rubber bands! Place the jacket onto a protected work surface or onto a wire rack + sheet tray combo to collect any excess dye.
Remember, there's no wrong way to tie dye! Apply the dyes to the jean jacket and use gloved hands to work the dyes into the fabric, checking to ensure the dyes have penetrated the folds. Wrap the kids' tie-dye jean jacket with plastic and let set for 6-8 hours.
Rinse, wash in cool water with a little laundry detergent, dry, and reveal! Your kids' tie-dye jean jacket is ready to wear— check out how those fun fall colors come together!
What other kids' fall fashion will you make with Tulip Tie Dye? We want to see your take on this kids' tie-dye jean jacket! Show us your colorful creations and tag us on social media @TulipColorCrafts!