Tie-Dye Maxi Dress for Summer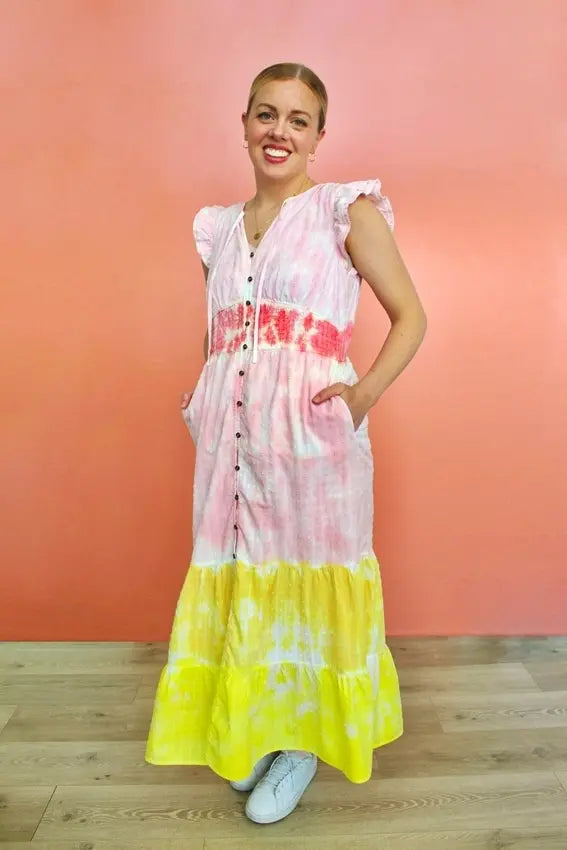 A good maxi dress is a summertime staple, so add some sunny tie-dye color to your summer wardrobe with the Tulip Sunshine One-Step Tie-Dye Kit! This tutorial from Pretty Life Girls will show you how easy it is to repurpose and upcycle a plain white dress with maximalist tie-dye designs. This vibrant tie-dye outfit will be your new favorite summer statement dress!
Step 1: Prepare materials
Before you get started on this tie-dye maxi dress DIY, prewash your summer maxi dress and prepare the tie-dye solutions according to package instructions. This project uses the Tulip Sunshine One-Step Tie-Dye Kit for a bright, summery palette!
Step 2: Fold and bind
Lay your damp summer maxi dress flat and bunch the fabric together vertically. Use rubber bands to create sections and secure the fabric.
Step 3: Apply dyes
It's time to tie-dye your summer maxi dress! Place the fabric onto a wire rack over a sheet tray or tub to catch excess dye. Apply dye to the fabric. Use gloved hands to work the dyes into the fabric, checking to ensure the dyes have penetrated the folds. Flip your tie-dye maxi dress and apply dye to the backside so that the fabric is fully saturated with dye.
Step 4: Wrap in plastic and repeat
Wrap the dyed fabric with plastic wrap before you move on to the next color. This will ensure your project stays damp as you work and will minimize colors bleeding into their adjacent sections. For this project, Pretty Life Girls played with color blocking to create bold, maximalist designs on their tie-dye maxi dress! Repeat this process until your maxi dress is full of beautiful tie-dye colors! 
Step 5: Wrap in plastic let set
Once you're finished applying the dyes to your tie-dye maxi dress, cover the last section of fabric in plastic wrap. Lay your dyed fabric into a spiral and allow to set for 6-8 hours. Want to finish your project faster? Skip ahead to the next step!
For a faster take on tie dye, place your tie-dye maxi dress into a Two-Minute Tie Dye Container! This patent-pending process features specially made reusable microwaveable containers designed specifically for use with any Tulip One-Step Tie-Dye Kit to make tie-dye magic in just minutes.
The Two-Minute Tie-Dye Container can only be used with 100% cotton fabrics with no metal details or embellishments. Follow all safety procedures during use.
Step 7: Rinse, wash, dry, and reveal!
Rinse, wash in cool water with a little laundry detergent, dry, and reveal your new tie-dye maxi dress! This color blocked statement dress has the perfect palette for summer.
Will you be making your own tie-dye maxi dress with Tulip One-Step Tie Dye? Show us your summer tie-dye style and tag us on social media @TulipColorCrafts!