Upcycle Project: DIY Hanging Planter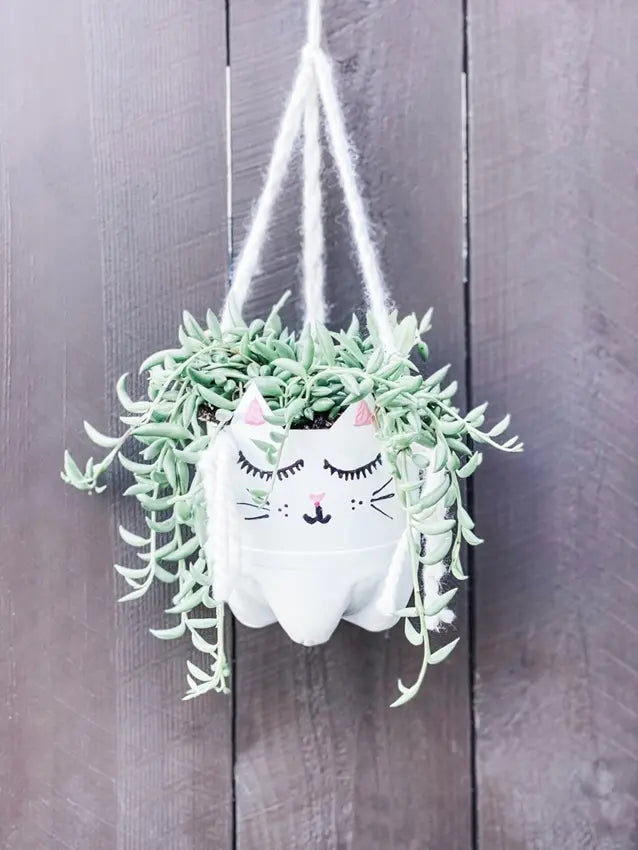 We're always looking for a good upcycle project; there's something so creative and exciting about repurposing an item in a whole new way, don't you think? This plastic bottle upcycle project from Norx in the Know turns a 2-liter soda bottle into the cutest kitty cat hanging planter. With just a few craft supplies and Tulip Dimensional Fabric Paints, you too can make a hanging planter that's absolutely purrrrfect. No one will ever know it used to be a plastic bottle!
For this upcycle project, you'll want to cut your 2-liter bottles in half and use the bottom halves. If you don't want to just wing it when cutting, you can first use a marker to sketch a line around the halfway point of each bottle, creating 2 triangle shapes on one side for cat ears as shown. Once you have your bottom halves cut out, spray a coat of white spray paint onto the outside of each. Let dry completely. 
Once the painted bases are dry, create the cat faces using Dimensional Paints in your desired colors. If you're nervous about freehanding the faces, you can first lightly sketch them on with a pencil. Let the painted faces dry, then it's time to add your string and pot your plants! Punch a hole on each side of the planter and tie each end of yarn or string through the holes. Hang your adorable cat planters and enjoy the fact that you just made an upcycle project that also recycles, and adds good-for-you greenery to your space!