Upcycled Splatter Paint Overalls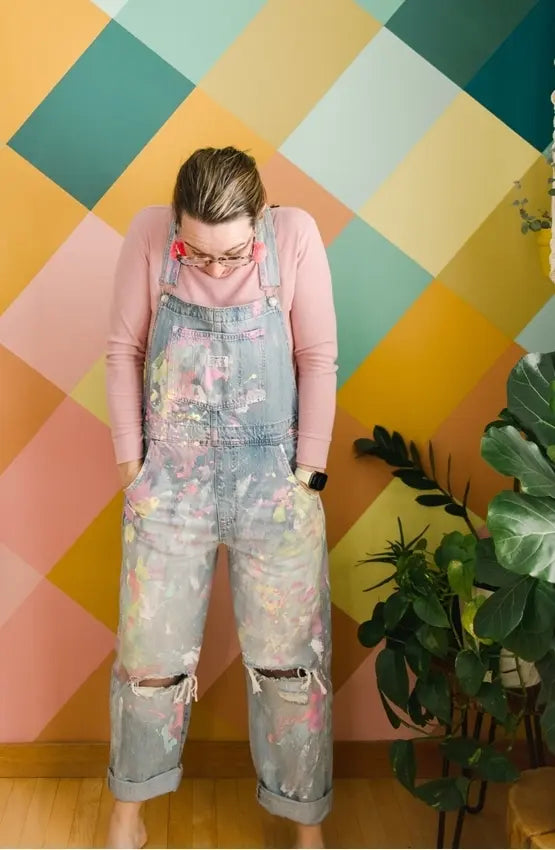 Looking for a fun way to refresh your worn-out clothes? Get inspired with this splatter paint tutorial from Oh Yay Studio! Tulip Soft Fabric Paint Pastels are perfect for adding a lovely pop of pastel color to clothes while hiding unsightly stains and splotches. This trendy upcycling project is a great way to get colorful and creative with Tulip!
What you need:
Tulip Soft Fabric Paint Pastels
Overalls
Paintbrushes
Paper cups
Cardboard
Drop cloth or newspaper
Step 1 - Prepare your work area and supplies
Wash and dry your overalls so that you're starting with a clean slate, then prep your work area and paints. Use a drop cloth or lay out some newspaper to protect your work surface— this project may get a little messy! Pour paints into paper cups for easy access. Optionally, you can dilute the paint with a little bit of water so that it's easier to splatter. Place cardboard between the layers of fabric to prevent bleeding.
Step 2 - Brush on white paint as a base
Brush a thin layer of white paint onto your overalls. This step is optional, but will really help your colors pop! This is especially helpful if you are using a darker denim.
Step 3 - Splatter paint onto overalls
Use your paintbrushes to splatter paint onto your overalls. Simply dip your brush into the paint, then flick the paint onto the fabric. There's no "right" way to splatter paint— just get creative and go for it! Keep applying paint onto your overalls until you are satisfied with the coverage.
Step 4 - Allow paint to dry completely
Let your painted overalls dry completely for at least 4 hours. Allow to dry for at least 72 hours before washing inside-out. That's how easy it is to make your own colorful splatter paint overalls!
Will you be using Tulip Soft Fabric Paints create your own splatter paint clothes? Show us your projects and tag us on social @TulipColorCrafts!