Valentine Reverse Tie-Dye Quote Art Tee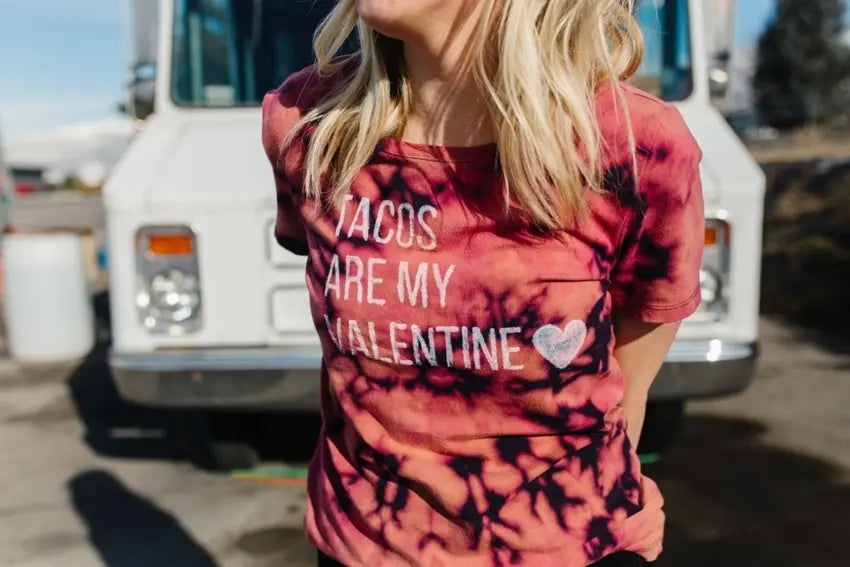 Whether you're celebrating Valentine's Day with your significant other, your gal pals, or the most fantastic person you know - YOU - this custom Valentine's Day Quote Art T-shirt is the perfect tee to wear when Cupid gets out his bow and arrow. (Whether you decide to run towards his arrow or away from it is entirely up to you. We're not judging.) Make it clear who your true love is (can we say tacos, tacos and MORE TACOS?!) with the cool effects of the Tulip® Reverse Tie-Dye Kit and clever quote art made easy with Tulip® Fabric Paint Markers. Get the tutorial from Pretty Life Girls and get ready to get your grub on in style this Valentine's Day.
What you need:
- Tuip 1-Color Fuchsia Dye Kit
- Black cotton T-shirt
- Bucket or sink
- Letter stencils
- Iron
- Thin cloth
- T-shirt form/cardboard
To prep your shirt for adding Color Changer from the Reverse Tie-Dye Kit, first twist or fold it according to your favorite tie-dye technique. For this shirt, Pretty Life Girls used the spiral tie-dye pattern, pinching the shirt fabric in the center and twisting the entire shirt into a spiral.
Bind the shirt with rubber bands (using at least three to hold in place for the spiral technique). Place the bound shirt into a bucket or sink, then prepare and apply the Color Changer to your shirt according to the kit instructions.
Let the Color Changer process on the shirt until your desired look has been achieved, then cut off the rubber bands and immediately rinse/launder according to instructions.
If you want to add a pop of color to your shirt, now's the time! Leave your shirt damp after rinsing/washing, then mix your fuchsia (or desired) Tulip tie-dye according to instructions. You can place your shirt crumpled up in the bucket or laying flat on a covered work surface before applying dye; there's no wrong way to tie dye! Add your dye to your liking over the shirt, then let it process for the time recommended in the instructions. After the dye has set, wash and dry your shirt and you're ready for your quote art! And maybe a snack. (Mmmmm ... tacos ....)
Tulip Fabric Paint Markers work on dark fabrics too, so get out your stencils and your Paint Markers and get ready to add some quote art! (We recommend placing a shirt form or piece of cardboard in between the layers of your shirt to prevent any paint from accidentally soaking through to the back of the shirt).
Place your letter stencil on your shirt and use the white Paint Marker to color in the lettering.
Remove the stencil and let the paint dry. Heat your iron to the hottest setting (no steam) and place a thin cloth over the top of the lettering. Iron for 60 seconds to heat set the ink.
Look who's ready for Valentine's Day! But more importantly, who's ready for tacos???