Y2K-Inspired Holographic Painted Pillow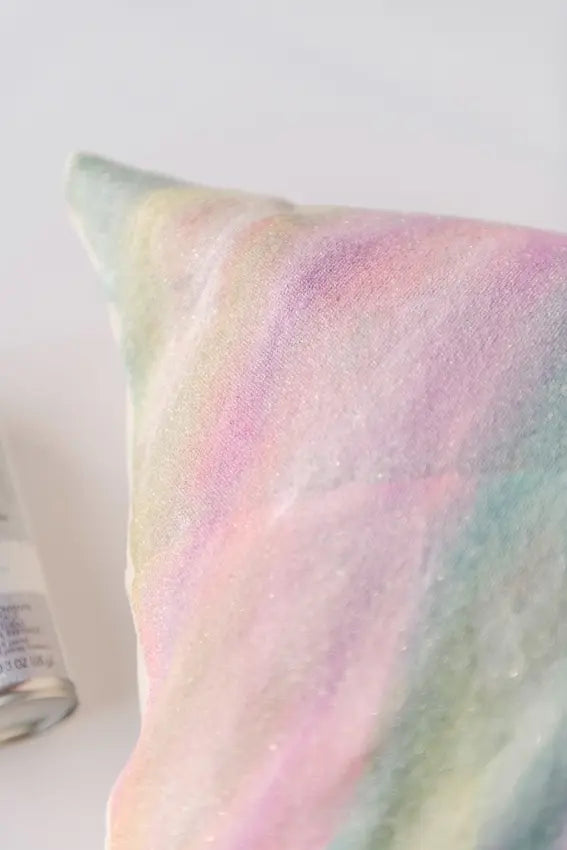 If you're a child of the 90s, chances are holographic designs have a special place in your heart. This Y2K-inspired holographic pillow is the DIY project you've been looking for to cure your nostalgia! Grab an old pillow that you have lying around or pick one up from the thrift store along with some Tulip ColorShot Fabric Paint and get ready to make a plush pillow that's totally rad. The shimmering metallic shades don't only look awesome, but the paint
What you need:
- Tulip Colorshot Fabric Spray Paint – Silver (Gold works too)
- Tulip Fabric Paint
- Old or thrifted pillow (preferably white or ivory slip cover)
- A pencil
- Paintbrushes
- Iron (optional)
Before starting on this project, wash and dry your pillowcase. Iron out any wrinkles if needed to make sure the surface is flat.
Spray a light coat of Tulip Colorshot Fabric Spray Paint onto the fabric. Do this by shaking the can for at least a minute, then hold the can 6 to 8 inches away from the fabric and spray with smooth, even strokes.  This will add a bit of glitter to show through the painted portion of your pillowcase.
Once dry, use a pencil to sketch out organic shapes in a flowy pattern. Draw out the shapes and areas of each color, parallel to each other like a topographical map. If you'd like, you can find examples of holographic images online as reference.
Use a piece of cardboard between your pillowcase layers to stop the paint from bleeding through. Use Tulip Fabric Paint to paint one section of your drawn lines. Before it dries, begin adding the next color to blend them into each other. Keep moving through your colors, blending as you go, until your entire pillow is covered.
Note: You may want to do 2 variations of each color, using the color straight from the bottle and then mixing it with white. A little more variety of color will add more dimensions to your holographic look!
Let dry completely. Finish your pillow by adding a few more coats of Tulip Colorshot Fabric Spray Paint, letting dry for 5 minutes between coats. Add as many layers as you like to make it as glittery as your heart desires.