How to Create a Custom Vase with the Tulip Vase Painting Kit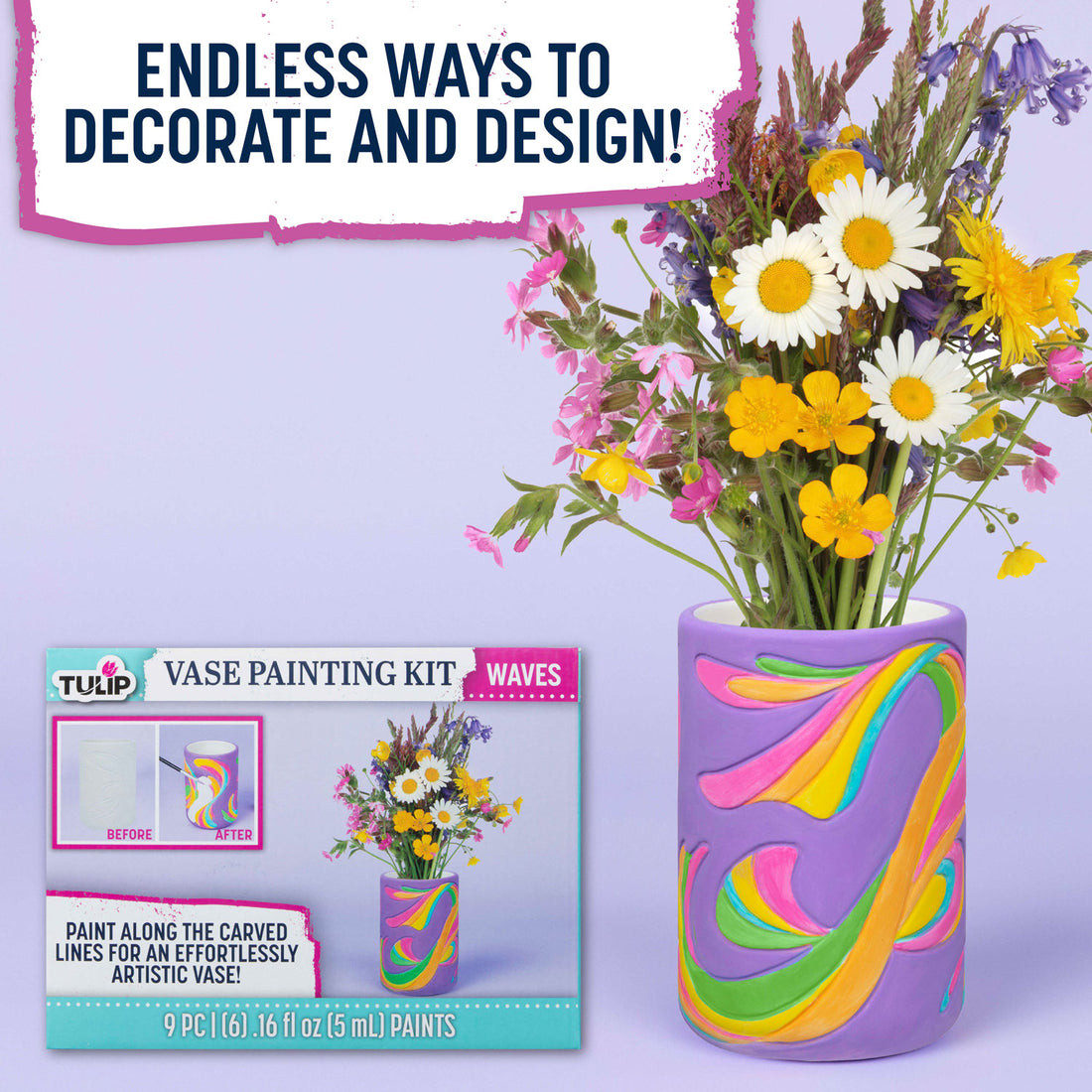 Explore your creativity with the Tulip Vase Painting Kit! This easy ceramic craft features wavy textured designs and vibrant nontoxic paints, making this a fun and easy creative project for all skill levels. With endless ways to decorate and design, every vase has the potential to be one-of-a-kind!
Supplies Needed:
Tulip Waves Vase Painting Kit Includes:
1 Textured ceramic vase
6 acrylic paint pots (Pink, Orange, Yellow, Green, Blue, Purple)
1 Paintbrush
Project guide
 Optional supplies:
Protective surface cover
Acrylic sealer
Water
 Step 1 Prep
Clean and dry the ceramic vase to ensure it is free of dust and debris. Cover your work area with a protective surface cover for easy cleanup.
 Step 2 Paint
 Stir paint and apply color to the vase as desired— get creative and make it uniquely yours! Fill the textured designs with color for an effortlessly artistic vase, or try experimenting with different painting techniques such as dry brushing, dabbing, splattering, and gradients for fun, creative effects. Additional colors can be created by mixing paints.
 Remember to clean your brush with water when switching between paints to avoid muddying colors.
Step 3 Display!
Allow the paint to dry completely. For best results, finish your painted vase with acrylic sealer. This will protect the paint from scuffing or flaking and ensures your painted vase will look just as good as the day you made it! Your one-of-a-kind painted vase is perfect for displaying fresh flowers and makes a great gift, too!
How will you decorate with the Tulip Vase Painting Kit? Show us how you're painting with Tulip and tag us on social media @TulipColorCrafts!
 Discover more painted ceramic crafts with Tulip! Check out the links below and get inspired for your next colorful DIY.