How to Paint Custom Mugs with the Tulip 4 Pack Mug Painting Kit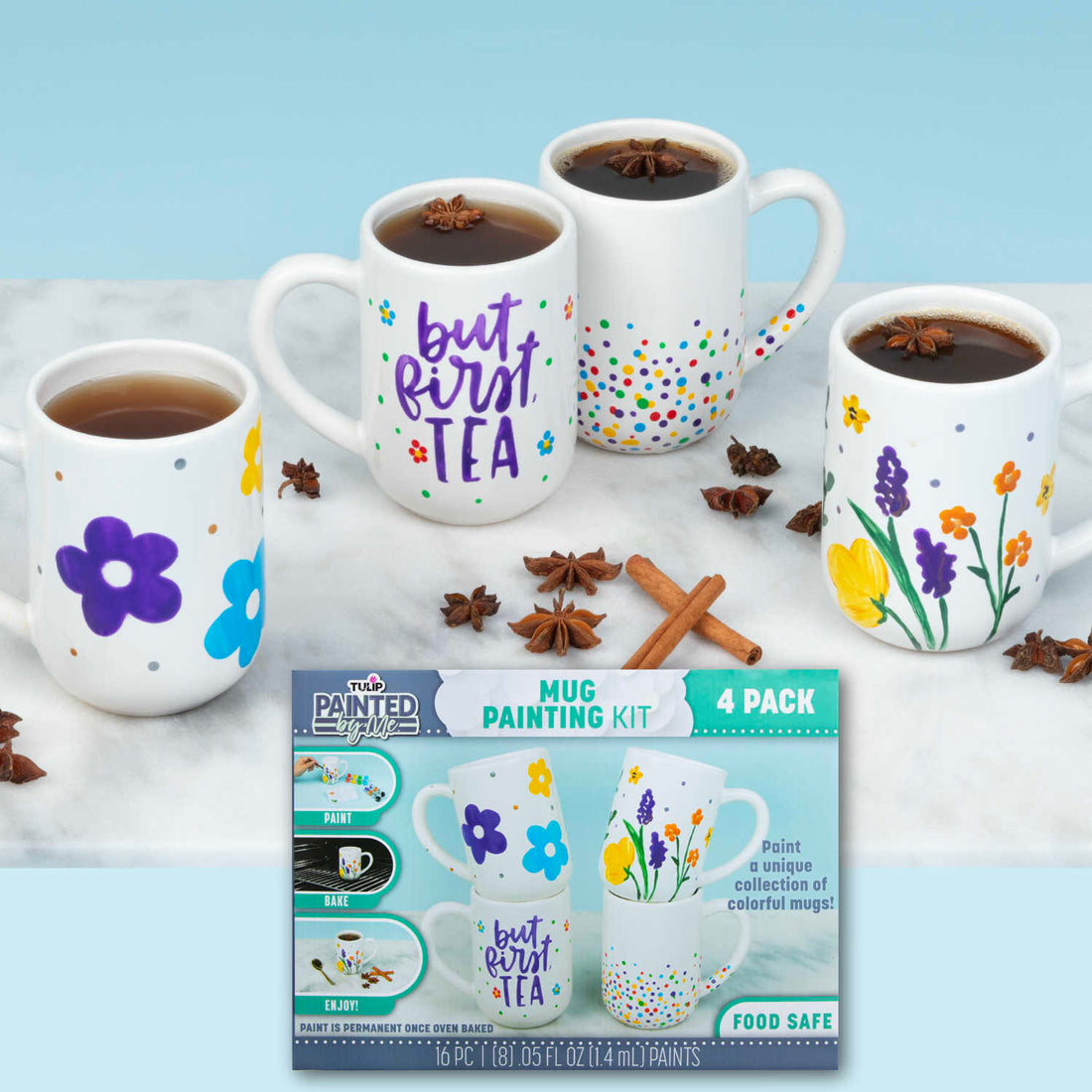 Paint a collection of colorful mugs with the Tulip Painted By Me 4 Pack Mug Painting Kit! This easy-to-use kit includes 4 ceramic mugs, 4 paintbrushes, and 8 vibrant paints so you can personalize your new favorite mugs any way you want. Gather your friends or family for this creative activity— Tulip makes it easy for crafters of all skill levels to experience the colorful fun!
Supplies Needed:
Tulip Painted By Me 4 Pack Mug Painting Kit Includes:
4 ceramic mugs
8 paint pots (Red, Yellow, Green, Blue, Purple, Gold, Silver, Black)
4 Paintbrushes
 Optional supplies:
Protective surface cover
Stencils
Water or glass cleaner
Step 1 Prep
Clean and dry the ceramic mugs to ensure they are free of dust and debris. Cover your work area with a protective surface cover for easy cleanup.
Step 2 Paint
Stir paint and apply color to the mugs as desired. This kit includes 4 ceramic mugs, 4 paintbrushes, and plenty of paint for your artistic designs. These ceramic mugs are like a blank slate, so you can personalize them however you'd like!
Try experimenting with different painting techniques, stencils, and designs to customize your cup. The included metallic paints are perfect for adding shimmery details! Additional colors can be created by mixing paints.
Remember to clean your brush with water when switching between paints to avoid muddying colors. Make a mistake or want to change a color? Erase and correct designs easily with warm water or glass cleaner.
Step 3 Bake and enjoy!
Once you're finished painting these ceramic mugs, place them into cool non-preheated oven and bake at 375 degrees for 30 minutes. Turn off the oven and allow the mugs to cool before handling. The paint becomes microwave, dishwasher, and food safe after baking.
Your custom ceramic mugs are now ready to use! Enjoy your colorful hand-painted mugs or gift them to someone special as a thoughtful, personalized gift.
What painted designs will you create with the Tulip Painted By Me 4 Pack Mug Painting Kit? Show us your unique creations with Tulip and tag us on social media @TulipColorCrafts!
 These colorful crafts are perfect for creative group activities! Check out these links and get inspired for your next project!
Buds

& Blossoms Mug Painting Kit