How to Paint Custom Ornaments with the Tulip Garden Buds Ornament Painting Kit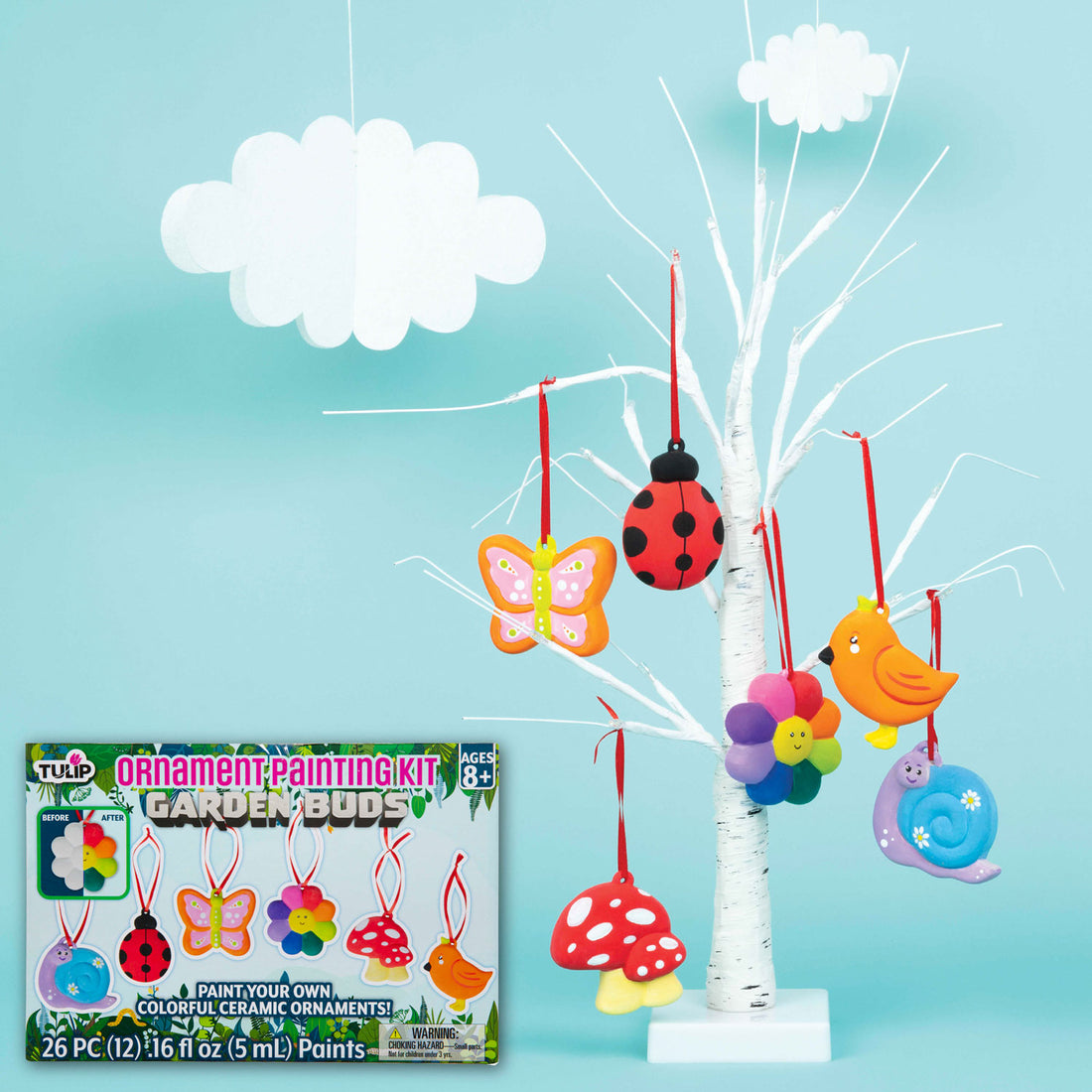 Create unique and colorful ornaments with the Tulip Garden Buds Ornament Painting Kit! This whimsical kit has everything you need to decorate 6 nature-inspired ornaments with vibrant, nontoxic paint. These cheerful ornaments make a great hand-painted keepsake or gift for loved ones. Use your imagination and bring your garden buds to life with Tulip! 
Supplies Needed:
Tulip Garden Buds Ornament Painting Kit Includes:
6 ceramic ornaments (Butterfly, Ladybug, Snail, Mushroom, Flower, Bird)
12 acrylic paint pots (Pink, Red, Orange, Yellow, Lime, Dark Green, Light Green, Blue, Light Purple, Purple, Black, White)
2 Paintbrushes
6 hanging ribbons
 Optional supplies:
Protective surface cover
Acrylic sealer
Water
 Step 1 Prep 
Step 2 Paint
Stir paint and apply color to the figurines as desired. This kit includes 6 ornaments and 2 paintbrushes, so enjoy the creative process with a friend! Crafters of all skill levels can enjoy this colorful activity.
Both figurines have textured designs that you can easily fill with color. Try experimenting with different painting techniques such as dry brushing, dabbing, splattering, and gradients for fun, creative effects.
Additional colors can be created by mixing paints. Remember to clean your brush with water when switching between paints to avoid muddying colors.
Step 3 Display!
Allow the paint to dry completely. For best results, finish your painted ornaments with acrylic sealer. This will protect the paint from scuffing or flaking and will preserve your painted ornaments for years to come. Tie a hanging ribbon onto each ornament and display your garden buds!
 There are so many ways to decorate with the Tulip Garden Buds Ornament Painting Kit! Show us your colorful painted ornaments and tag us on social media @TulipColorCrafts!
Looking for more colorful painting activities with Tulip? Check out these links and get inspired for your next project!