Custom Tumbler Cup with Painted Butterflies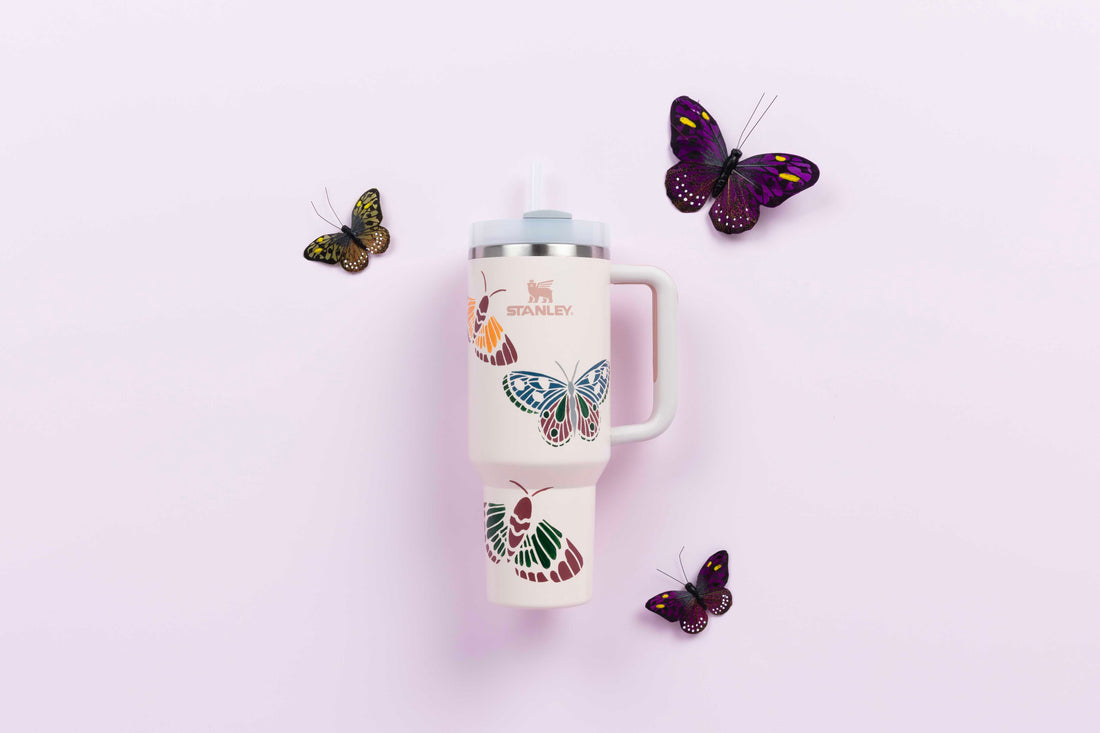 Staying hydrated is super important, so why not do it in style with Tulip? Give your go-to tumbler a new look and create your own custom tumbler cup with painted butterflies. Tulip Soft Fabric Paint is perfect for personalizing your tumbler with colorful designs! Whether you're sipping water, caffeinating with an iced coffee, or getting cozy with a hot cup of tea, this personalized tumbler DIY will quench your thirst for creativity no matter the season!
Supplies Needed:
Aleene's Premium Decoupage Matte
Vinyl butterfly stencils
Tumbler cup
Paint palette
Paintbrush
Foam brush
Painter's tape
Step 1 Prepare and apply stencils
Before you get started on this painted butterfly project, clean and dry the tumbler cup. Apply the vinyl butterfly stencils to the tumbler as desired.
 Step 2 Apply Paint
Squeeze some Soft Fabric Paint onto your paint palette. Begin painting your custom tumbler cup by using a paintbrush to fill in the butterfly stencil with earthy, nature-inspired colors. Carefully remove the stencil once you're finished each painted butterfly. Repeat this process to fill your cup with colorful butterflies and allow to dry completely. 
Step 3  Seal with decoupage glue
Seal your painted butterfly designs with Aleene's Premium Decoupage Matte. Protect the rim of your custom tumbler cup with painter's tape, then apply the decoupage glue to the cup using a foam brush. Allow the glue to dry completely and remove the painter's tape.
Step 4 Reveal!
Your custom tumbler cup with painted butterflies is ready to use! Stay hydrated all season long with your unique and colorful tumbler. Note: decoupage is not washable.
This custom tumbler cup with painted butterflies is too cute! What other painted DIYs will you make with Tulip? Show us your colorful custom creations and tag us on social media @TulipColorCrafts!
 Get inspired for your next colorful project with these helpful links!