DIY Halloween Glow Ghost T-shirt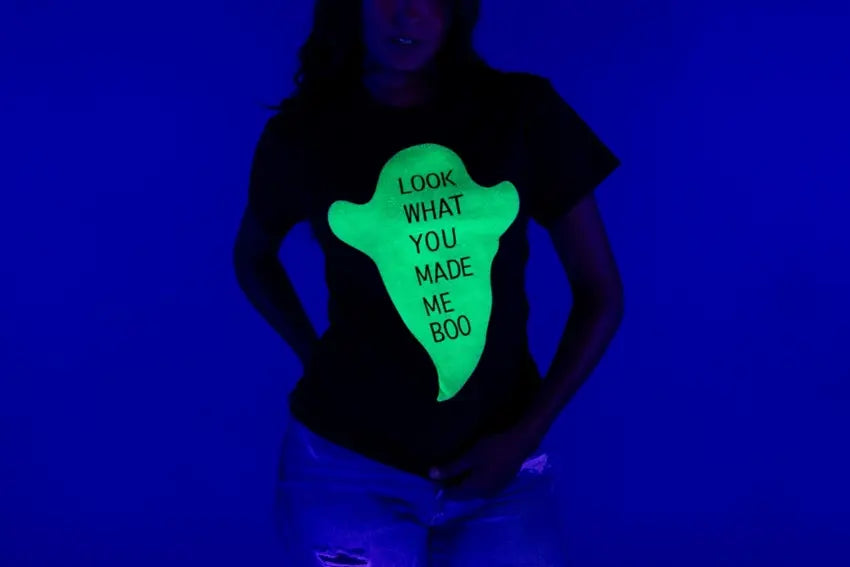 Can Halloween just get here already?! We are so in the mood for scary movies, tricked-out costumes, creepy candies and more! Even if you're not a fan of getting dressed up in a full-on costume, you can still get in the spooky spirit of Halloween with this easy DIY glow-in-the-dark ghost T-shirt with the fun phrase LOOK WHAT YOU MADE ME BOO. (Ghosts can have a sense of humor too. How do we know? Just trust us on this one.) All you need is a can of ColorShot® Instant Fabric Color in Natural Glow, some freezer paper and a black T-shirt and you'll be ready to rock a scary good glow-in-the-dark ghost T-shirt this Halloween.
What you need:
- ColorShot Instant Fabric Color in Natural Glow
- Black T-shirt
- Freezer paper
- Cutting machine or craft knife
- Iron
- Painter's tape
- Protective plastic cover
Wash and dry your T-shirt (without fabric softener) and iron smooth. You'll want to make sure there are no wrinkles on it prior to spraying with fabric spray paint. Create your ghost shape with quote stencil on freezer paper using a cutting machine or by drawing/printing & tracing onto freezer paper (non-waxy side) and cutting out with a craft knife.
Place a piece of freezer paper waxy side up inside of T-shirt and iron over the top of your T-shirt to melt the wax and create a taught painting surface. The freezer paper will also help prevent any color from soaking through to the backside of shirt. Iron your ghost shape stencil waxy side down on the front of shirt.
Place your letter cutouts inside of the ghost shape and iron in place by pressing the hot iron over the top until the wax melts. 
Surround the outer edges of shirt and your work surface with plastic covering to protect from overspray and tape in place.
Following instructions on fabric spray paint, spray several light coats of Natural Glow over the top of your stencil designs, letting dry in between coats.
Once you are happy with the coverage, remove the freezer paper stencils.
Tip: for the letters, it helps to use tweezers or your craft knife to help lift the edges of the letters and peel off. Let the fabric spray paint dry completely.
Look at you, boo! The perfect ghost T-shirt to show off your creative skills and your sense of humor!
 To activate the glow effects, expose your T-shirt to black light or to a UV light source for at least one minute.